Back to Blogs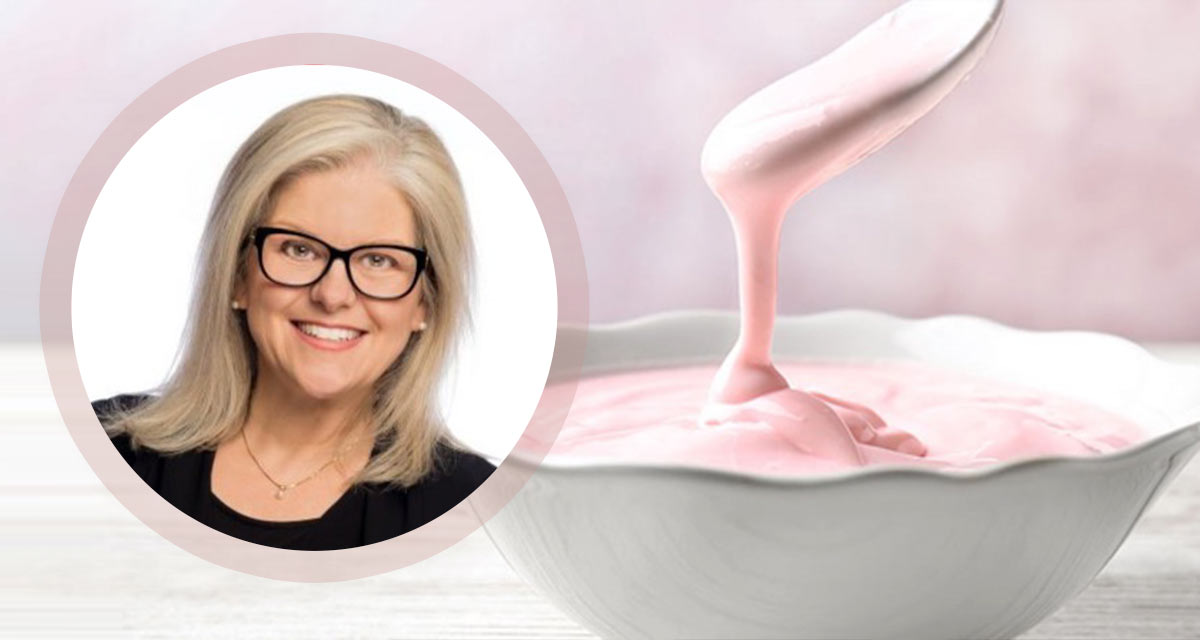 June 11, 2021
Industry Leader Spotlight: 4 Ways to Succeed with IDDSI with Nutrition Expert & Dietetic Consultant Margaret Roche
"I do believe in the transformative power of nutrition... It makes a difference. Especially for the older adults who have unique needs," Margaret Roche, MS, RD, CDE, CSG, FAND and founder of Roche Dietitians told us about her personal philosophy as a nutrition expert of 35+ years.
Just like the MealSuite® team, Margaret lives and breathes her mission to empower the senior living space with the education, tools and resources they need to elevate their level of care for the sake of resident safety, satisfaction and overall wellbeing.
And this includes helping communities succeed with, what she describes as "the biggest change in therapeutic diets (she's) ever seen", the International Dysphagia Diet Standardisation Initiative – a.k.a. IDDSI.
Dysphagia, or difficulty swallowing, affects up to 15 million adults in the United States, and with the population of older adults only continuing to grow, it's more important than ever for caregivers and foodservice professionals alike to become champions of safety for these individuals, while ensuring they receive enjoyable, nourishing and dignifying meals.
After becoming an early IDDSI enthusiast, Margaret dedicated two years to learning the ins and outs of IDDSI and has since shared her approachable and tailored message with thousands of foodservice professionals across the continuum of care through practical resources and a special IDDSI Training Program.
That's why, this National Dysphagia Awareness Month, we're joining forces with Margaret to share her knowledge, and take a deeper look into how her expert advice, matched with innovative foodservice management technology can help any foodservice team get started, and find success with IDDSI.
Without further ado, watch the video and read on to discover four pieces of advice that will help you build that momentum with IDDSI implementation, so you can deliver the safe and personalized care you've dreamed of for your community:
1. Just get started!
Margaret's #1 piece of advice to communities who want to implement IDDSI is simple: just get started!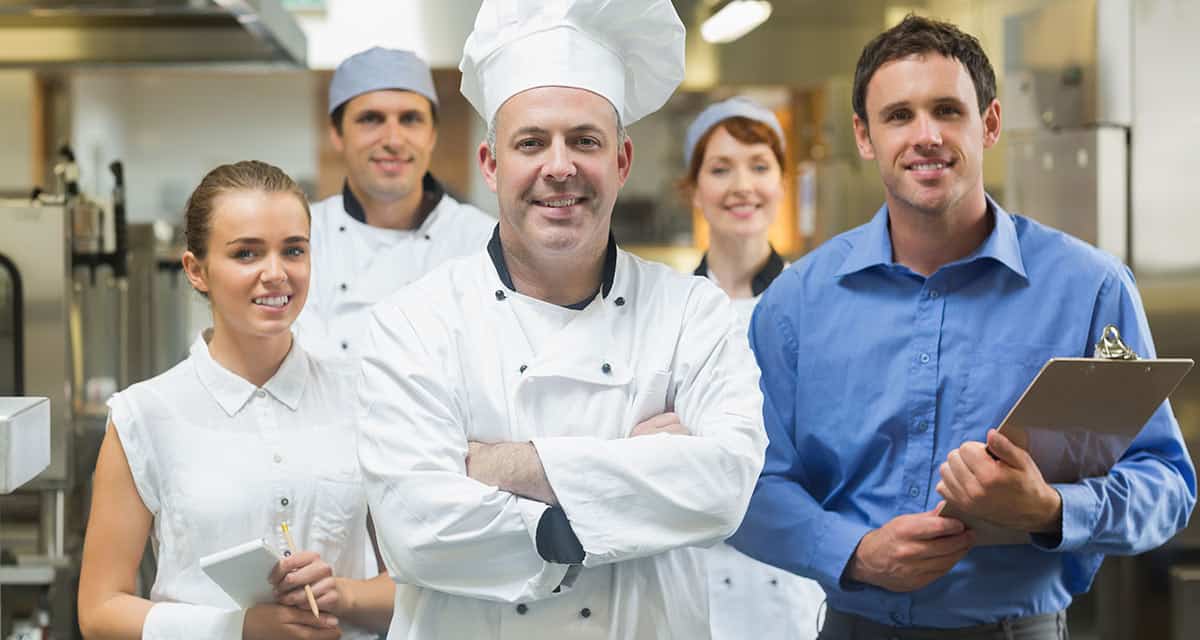 This being said, if you've personally hesitated to get started with IDDSI, you are certainly not alone. It's a complex framework, and there's no doubt it's going to be a learning curve for you and your team. Though, from her own experience training thousands of foodservice professionals, Margaret encourages teams to press go, and learn in real time through hands-on practice.
"Dietitians and dining leaders are the type of people... (who like to) take care of stuff ourselves and get it done, so the impulse is to say: I need to understand this a little deeper. But there are ways to get started... it doesn't have to be perfect to get started – and as you begin, you learn" she explains.
As they say, "a journey of a thousand miles starts with a single step". But, what is the first step to implementing IDDSI? Margaret suggests starting simple with Level 4 purees. More on this below!
2. Start with purees.
"I encourage people to start with purees. We're all serving purees. It's on our menu, we don't have to change diet orders, we don't have to get other disciplines involved initially. We can do that on our own and we can do it tomorrow," Margaret explains.
Among many helpful resources for the industry, Margaret and her team at Roche Dietitians have created IDDSI testing posters perfect for easy, at-a-glance reference in your kitchen. "Show your folks the framework, circle puree, get the fork out, get the spoon out, teach people the testing methods and – boom – guess what? You're implementing IDDSI!"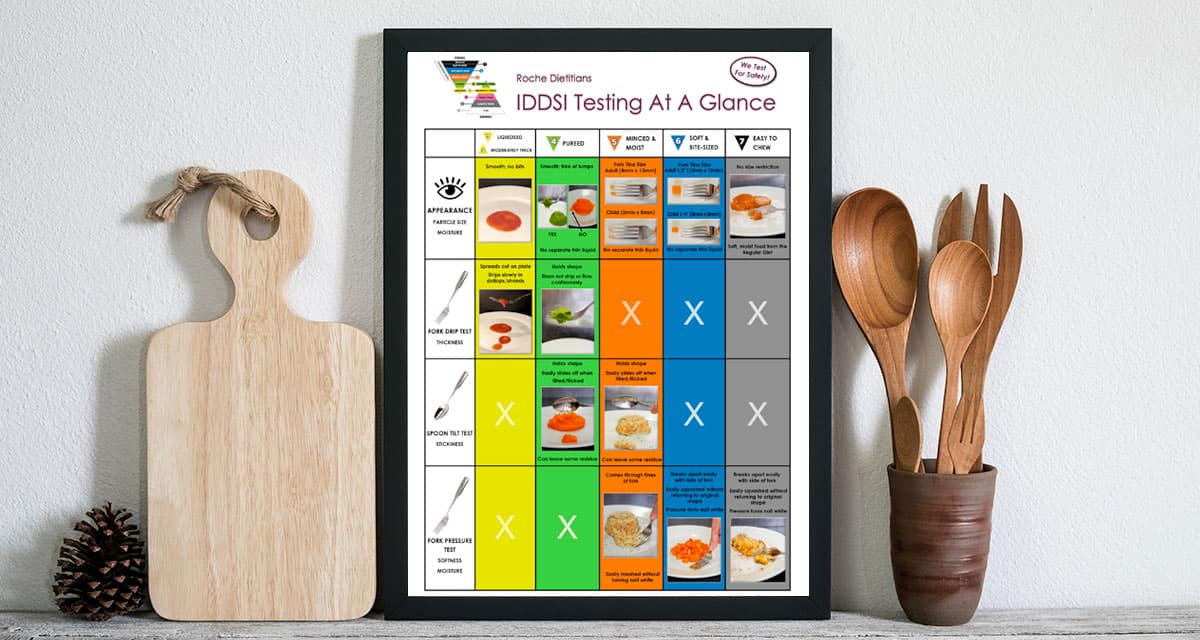 Starting with purees will build the confidence of your foodservice team. It will build a buzz in your organization around IDDSI and really get the momentum going – at which point you can engage other disciplines and start to implement the other levels.
Margaret advises to then look "at all your menus, looking across the board of what you're going to do for IDDSI and get that implemented... You're going to have to change diet orders, your diet manual, your policies... but by then you'll have the confidence!"
And one way to take the burden off of making menu or standardization changes like these by hand? Implementing integrated foodservice technology to support you! Keep reading to discover why Margaret says that now is the perfect time to look at upgrading your systems.
3. Use integrated foodservice technology to support you & elevate your level of care.
When you're serving a community of unique individuals, balancing diet orders, allergies, preferences and textures can be a huge challenge. And when it comes to IDDSI implementation, the thought of taking on yet another framework might just be too much to handle – at least, when you're doing it by hand.
That's why Margaret recommends using the available integrated foodservice solutions from leading providers designed to help make menu and recipe management simple, while automating changes, accurately tracking unique needs and elevating your level of care at mealtime.
"The thing that's not talked about a lot with IDDSI is: you're going to have to change your menu. You're going to have to change your recipes. You're going to have to change your diet manual and for those of us who have been around for a while, we're used to doing all that by hand. This is the perfect time to take a look at your systems. Because you do need to change these systems, and it's the perfect time to look and say: how can technology support me?" she adds.
How MealSuite®'s all-in-one foodservice technology can help you plan and deliver personalized diets and textures:
MealSuite®'s team of industry experts, thought leaders and registered dietitians (meet our RDNs below!) understand that delivering personalized care and adhering to frameworks like IDDSI can be complicated and overwhelming – especially when you already have enough of your plate. That's why MealSuite® is dedicated to providing solutions that make the complex, simpler. (So you can focus on safety, service and satisfaction!)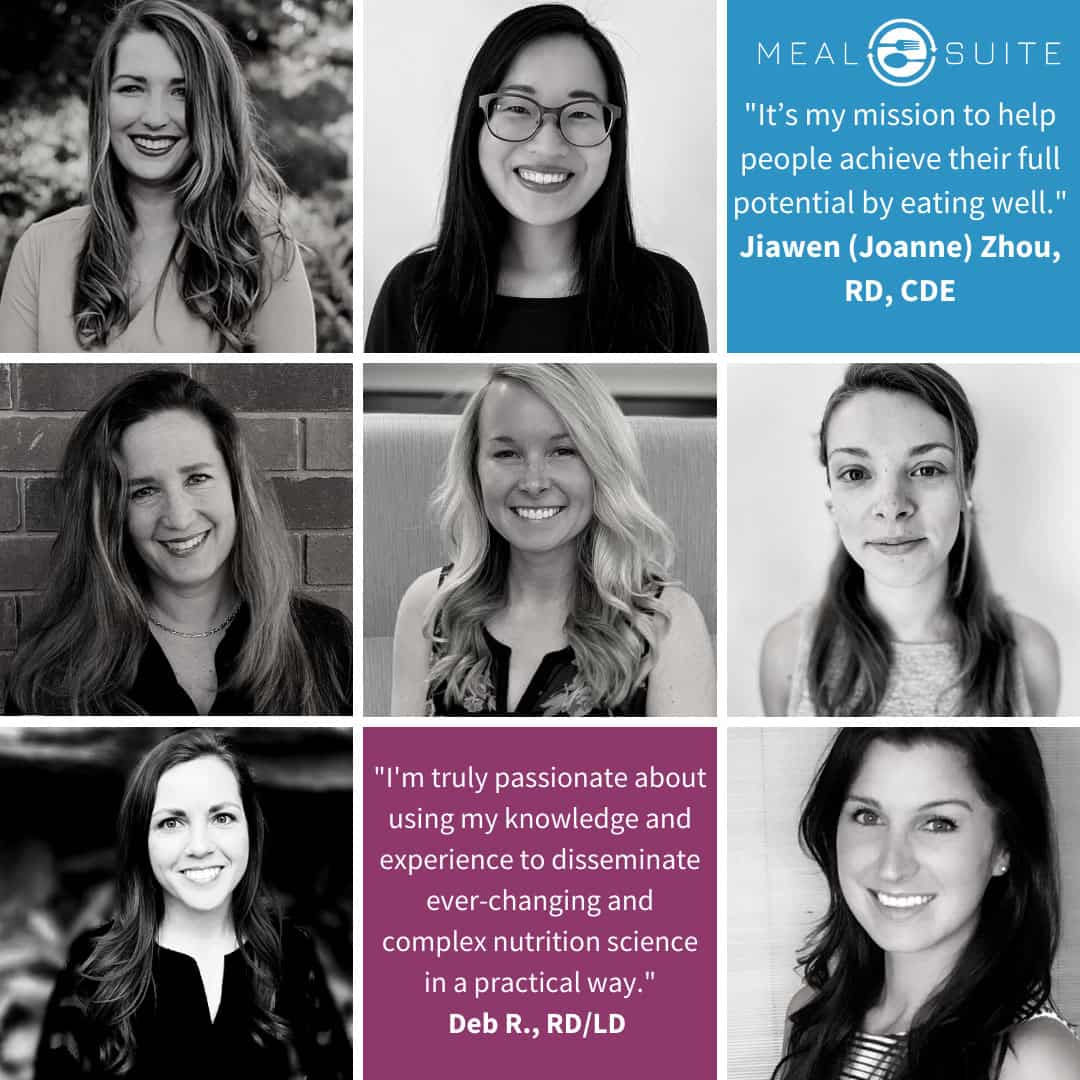 Here are just a few of the ways MealSuite® technology can help make implementing IDDSI in your community that much easier:
MealSuite® software includes hundreds of extended recipes created by our in-house Nutrition Services Team.
Within the software, you can easily search recipes by Diet Order Tag including texture modified diets.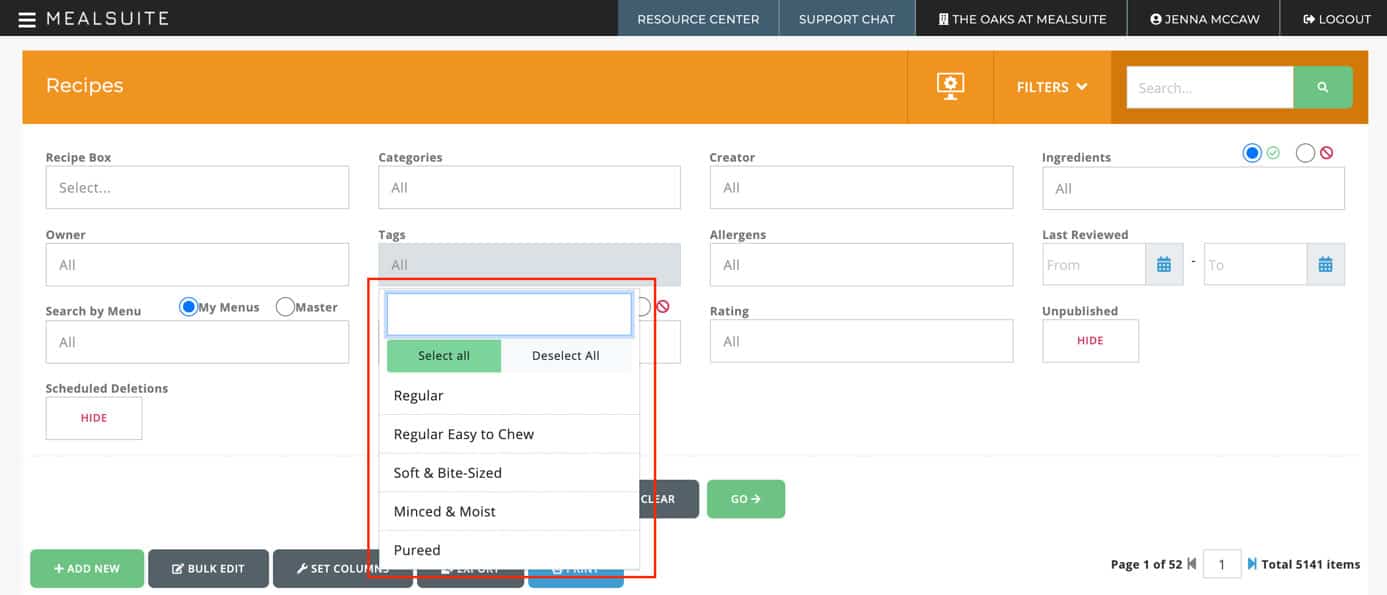 Comprehensive People Profiles and Connect Technology help keep your team up-to-date on any residents' texture and diet requirements.
Create Texture and Fluid modified recipes efficiently with the click of a button using Extension Templates.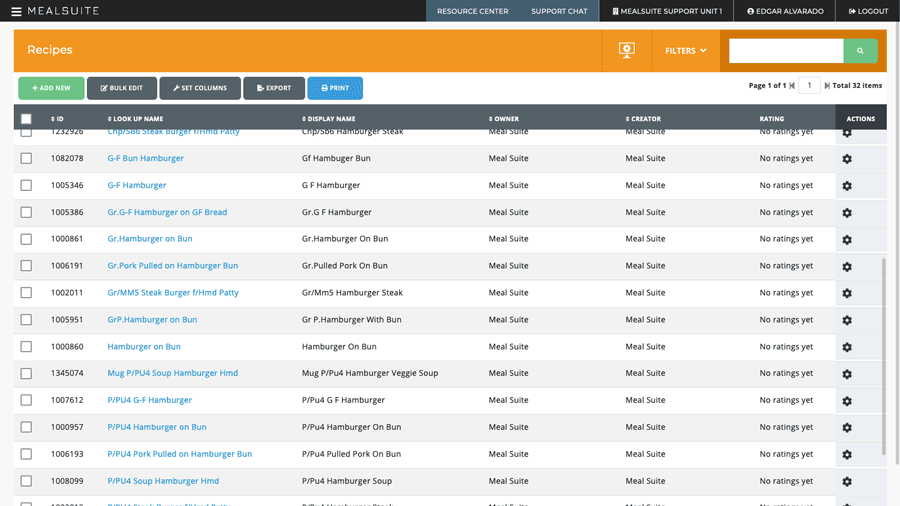 If you want to standardize and simplify your menu planning process as you implement IDDSI, or learn more about the benefits of end-to-end technology to resident safety and satisfaction, click here to connect with a MealSuite® foodservice technology expert.
4. Use a training program & get your whole team on board!
IDDSI implementation can't be done single handedly. In fact, Margaret drives home that "this is the most important thing: in order for IDDSI to be implemented properly, everyone on the team has a role".
And this being said, training your team on IDDSI doesn't have to fall completely on your shoulders, either. Industry thought leaders like those at Roche Dietitians and MealSuite® are here to help you and your team gain confidence and succeed with the framework.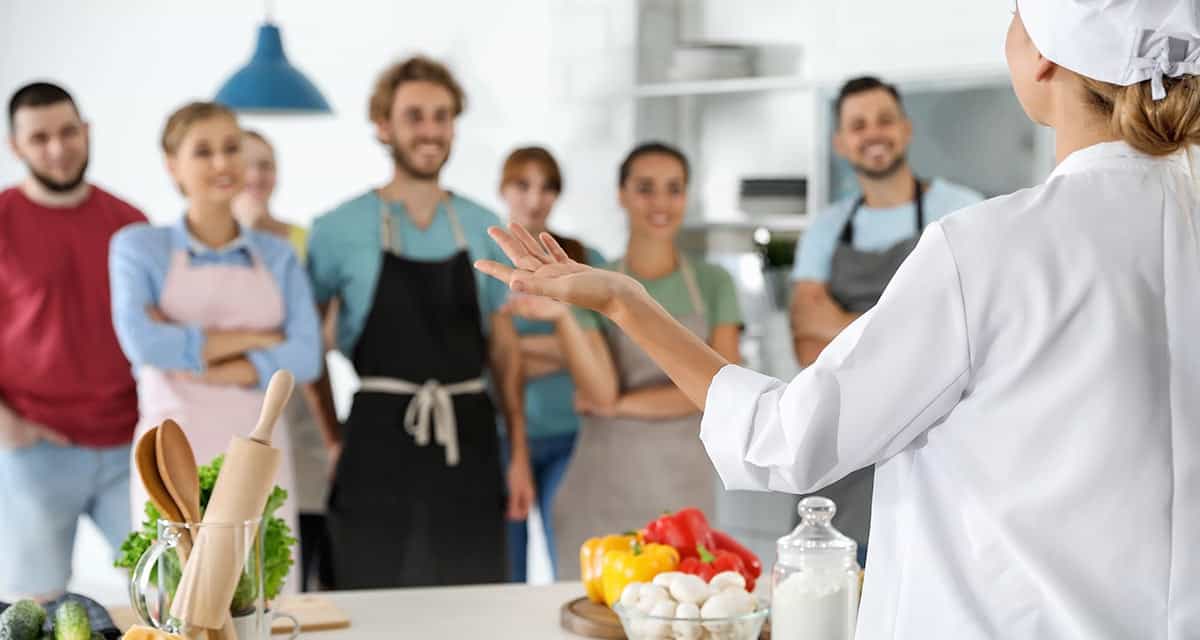 Margaret's "We Test for Safety" IDDSI Training Program in particular is meticulously designed for the industry, identifying learnings and responsibilities for each team member – from your foodservice managers to your caretakers and everyone in between. This way, together, you can become safety champions for your residents with dysphagia or related challenges.
Beginning October 2021, IDDSI will be the only texture-modified diet recognized by NCM®, which means there truly is no better time to dip your toes in the world of IDDSI! And remember, it can all start with a single step.
If you want to connect with Margaret and hundreds of like-minded friends from the industry, click here to join the IDDSI Community LinkedIn group so you can ask questions, share your wins & frustrations and join the conversation.
Wishing you the best of luck on your IDDSI journey, and know we are here to help should you need it.