Back to Blogs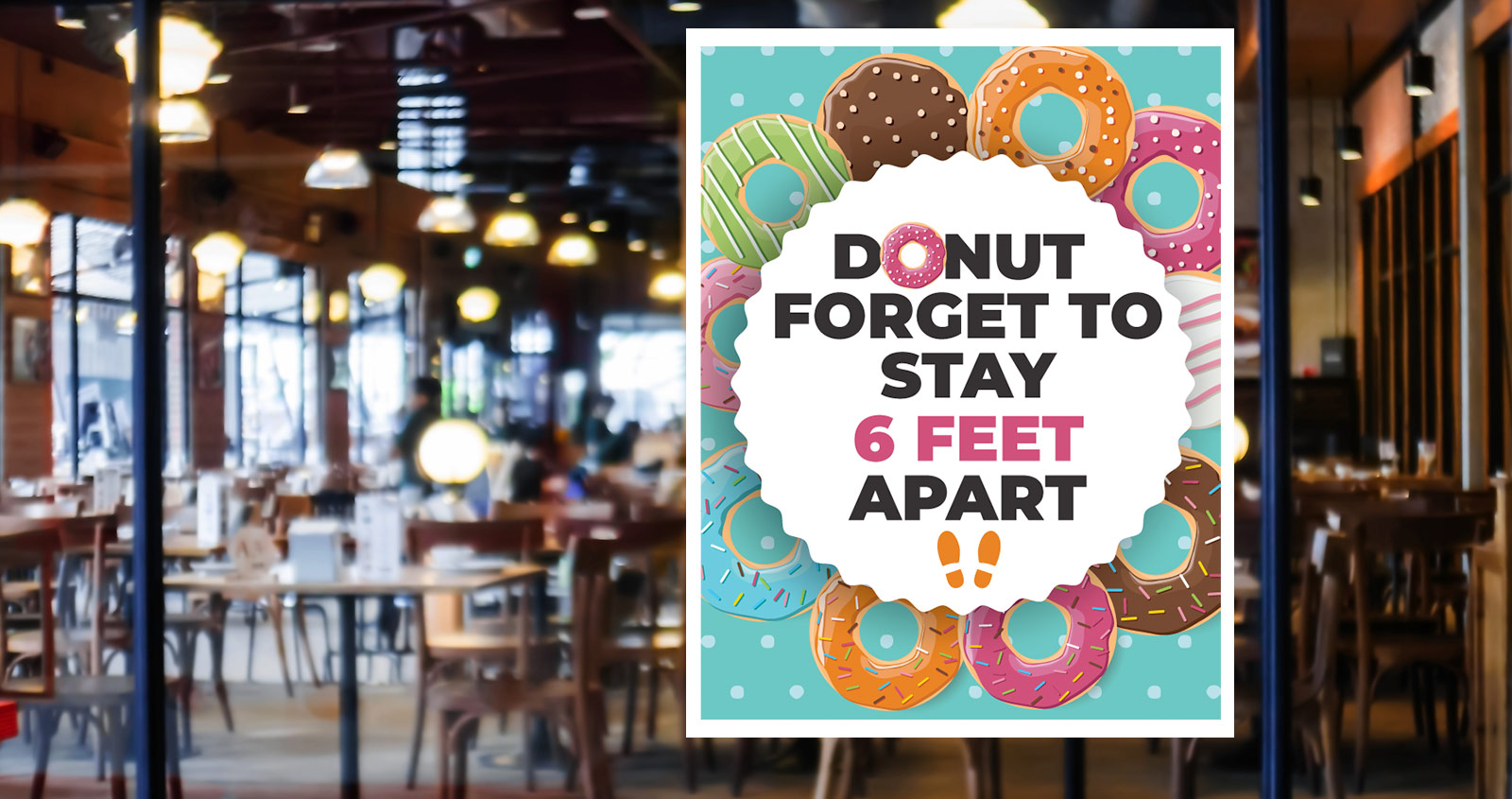 Considering Reopening Your Dining Room? Discover 6 Unique Ways to Maintain 'Dining at a Distance' for Your Patients and Residents
With so many communities forced to make a shift from tableside to in-room dining, there's no doubt that your foodservice has been flipped upside down over the past few months.
And depending on your local laws and recommendations, you may be considering slowly but surely moving your operations back to the way they once were.
...But the thing about going back to "normal", is that "normal" probably won't cut it when it comes to safe service as you welcome more residents back into the dining room.
So, whether reopening your dining room is just around the corner – or a little more in the distant future – there's no better time to start thinking about what "dining at a distance" in your senior living community will look like. And with these unique ideas for promoting social distancing in your dining area, you'll be that much closer to a safe and successful transition when the time is right for you:
1. Say it with signs
"Stay 6 feet apart" has become a mantra to live by across the globe – but it's always helpful to have a reminder or a reference point to ensure everyone is doing their part.
To remind your residents to keep their distance in the dining room, it's a good idea to put up some attention-grabbing wall signs in places where they could be entering, exiting, walking or gathering.
Plus – don't forget about safe distance while your diners are seated! To encourage appropriate space between them, label chairs that you don't want residents occupying, so they know where they can sit to enjoy their meal safely. Just be sure to communicate with them that if the seat is labeled, to please sit somewhere else!
GOOD NEWS: Physical distancing signs don't have to be a bore! Download and print our Complimentary "Dining at a Distance" Signage complete with food-punny safety messages for a fun and friendly way to promote social distancing for your diners while standing or seated in the dining room.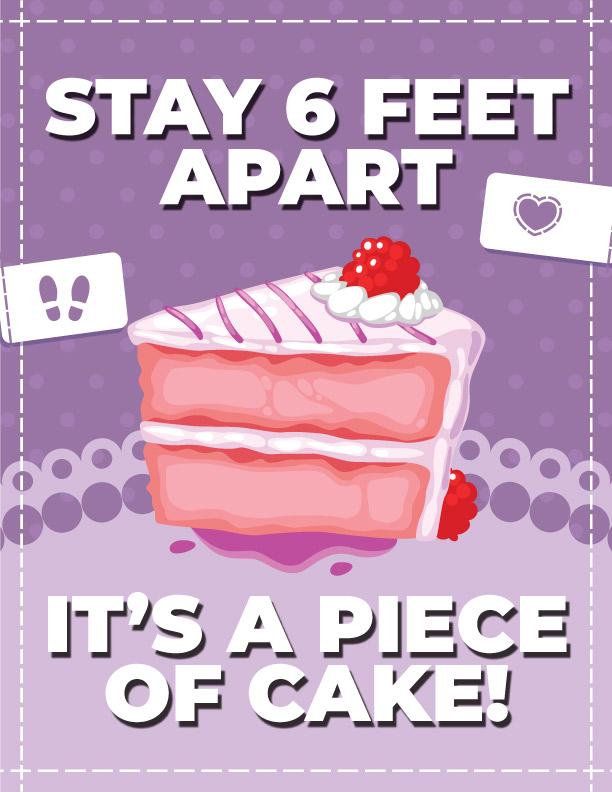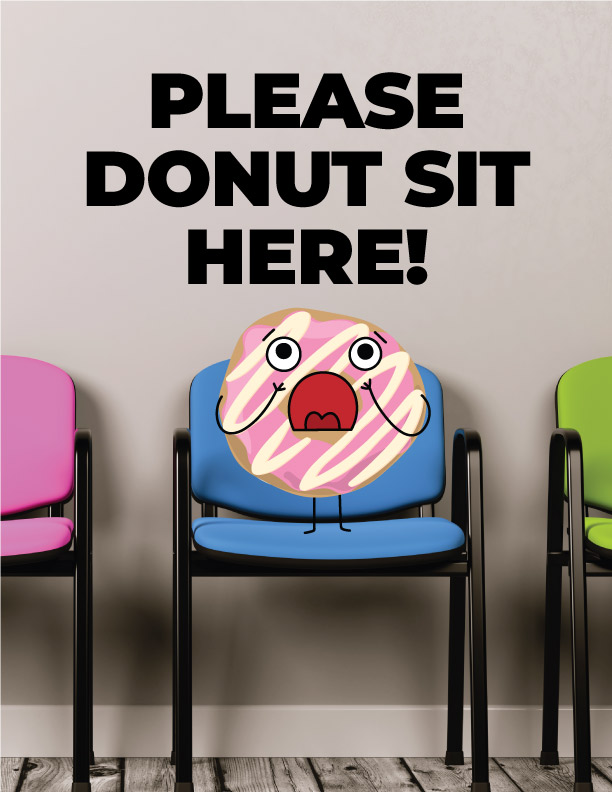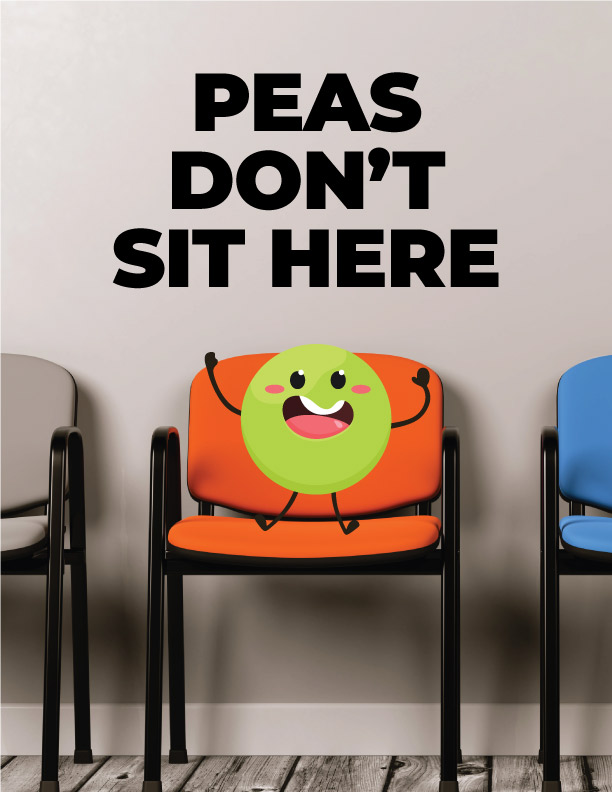 2. Get creative with color coding
As mentioned above, it's important to make it crystal clear where your residents can and can't sit in order to maintain a safe distance while enjoying their meal. Another great way to do this is by getting creative with color coding on your seating arrangements!
Try tying red and green balloons to your chairs to indicate where your residents should sit. Just be sure to communicate with them that green means "sit" and red means "please don't sit here".
Or, cut some pool noodles to size and place them around the arm rests or top of your chairs. Same thing goes for these – just ensure your residents know which color indicates which action!
3. Embrace digital ordering
As you know – not only is social distancing important from resident to resident, it's also necessary from resident to staff. Introducing digital ordering to your foodservice helps make physical distancing easier by eliminating the need for close contact when taking and communicating selections.
With digital ordering systems like MealSuite® Touch, orders can be taken and communicated to the kitchen for immediate service, for service by course, or for later service up to 7 days in advance via tablet at a safe distance – or via your resident's own personal devices.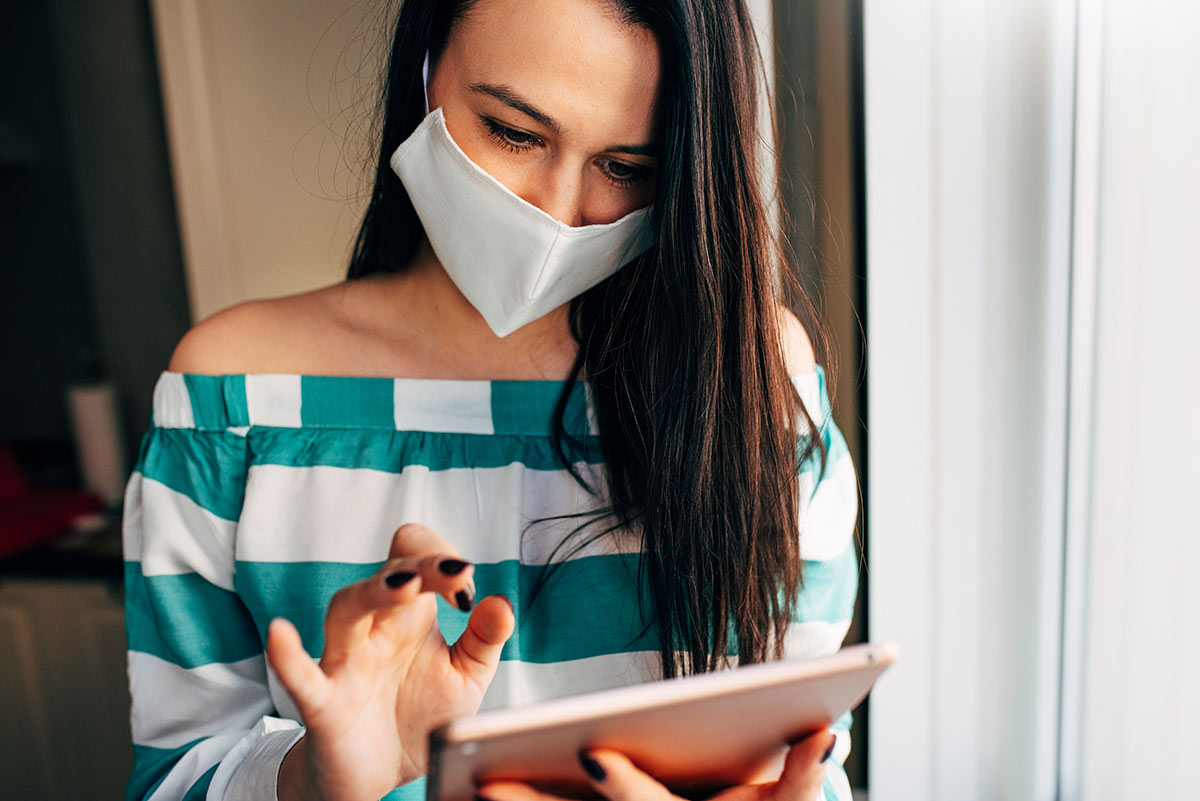 4. Unite with table dividers
A great way to allow your residents to stay connected yet safe at mealtime is to set up some glass or plastic dividers on top of your tables. This way, diners will be able to sit in a closer proximity and enjoy one another's company with an extra layer of protection.
Just ensure you do your research to find the right size, shape or type of divider to meet your specific needs and dining layout.
Like anything, dividers come with their pros and cons. Discover some insights and explorations from the SDA on this option here.
5. Rearrange the room
Depending on the layout of your dining room, it may make sense to do some rearranging of the furniture before allowing diners back in. Pay attention to local laws and recommendations to see what you can do to appropriately rearrange and/or remove seating and tables for safer dining distances.
6. Take it slow
In cases like this, it's usually best to take your time moving forward to ensure you're covering all your bases and not taking on more than you can safely handle.
In fact, according to this recent Senior Dining Association poll, many communities who have reopened their dining rooms are very stringent with the number of residents they're allowing at once, with 40.7% of respondents indicating that only 5% of their residents are returning to dining rooms in their community.
Be sure to weigh factors like the size of your dining room, local laws & recommendations and the number of staff members you have on-hand to determine how many residents you should allow back in the dining room at a time.
BONUS TIP: Celebrate this positive milestone!
Just because you must be cautious in moving forward with your plans to reopen, doesn't mean that you can't make it into an exciting occasion! You and your residents have come this far – and deserve to celebrate this positive milestone (safely, no less!).
For instance, with appropriate safeguards in place, our partners at Acts Communities made one of their location grand re-openings into quite the exciting affair, complete with a red-carpet treatment for residents!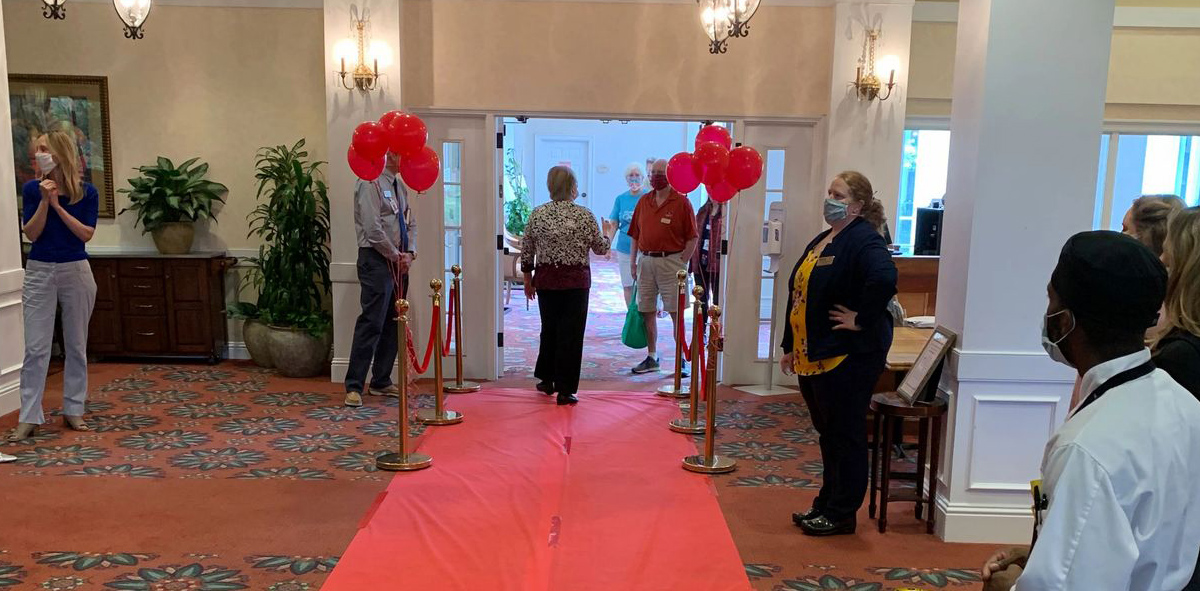 Wishing you a safe and positive journey as you adjust to these consistently changing times. If we can help you make your foodservice safer or easier in any way, please don't hesitate to reach out to us.