Back to Blogs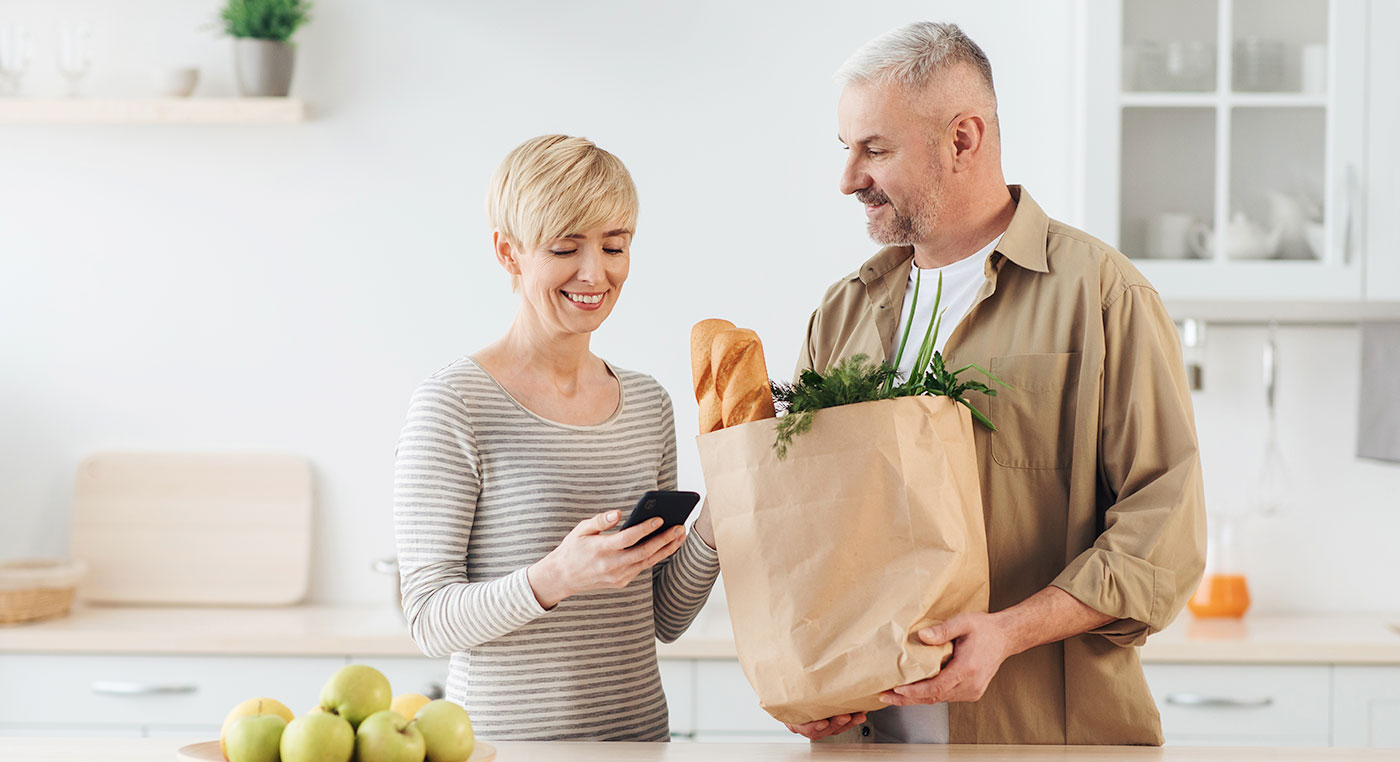 September 14, 2021
The Pandemic Has Accelerated Technology Adoption in Older Adults: Here's Why This Is an Exciting Opportunity for the Senior Living Industry to Bring Foodservice Innovation
44% of surveyed older adults say they have a more positive feeling toward tech now than they did before the pandemic1. If we can adapt our operations now and get ahead of this shift, it brings us tremendous opportunity to exceed the expectations of our residents of today and tomorrow.
As humans, we have a natural tendency to resist change. Not to any fault of our own – habit forming has quite literally been wired into our brains since the beginning of time. Put simply: we form habits (i.e., things we can do "without thinking" such as brushing our teeth or driving the usual route to work) as a way for our brains to conserve precious energy.
But when our everyday routine is flipped on its head – like it was as we adjusted to a "new pandemic normal" – we're left with no choice but to break our routines and quickly adapt. And over the last year and a half, older adults have been no exception:
From learning Zoom to stay connected with loved ones, to ordering groceries online while in quarantine – older adults have leapfrogged forward with their adoption to technology. And with many of these new habits here to stay, the way we do business in our industry must change, too.
This transformation brings us so much opportunity to be able to support our residents in new ways, tap into entirely new revenue streams and move the industry forward.
Discover more about how the pandemic had older adults embracing more technology, and what you can do to adapt to their new expectations:
How The Pandemic Changed Older Adults' Technology Habits
Due to changes brought on by the pandemic such as social distancing, many older adults (who may have avoided technology in the past) broke free from previous habits, while becoming more flexible in their approach to daily tasks and activities.
Here's a glimpse into some of the ways older adults' technological habits have transformed:
53% of adults ages 70+ now own a tablet (Up from 40% in 2019)1
Ages 50+ smartphone use for ordering groceries online increased 6% to 24%2
Ages 50+ smartphone use for financial transactions increased 37% to 53%2
44% of older adults say they have a more positive feeling toward tech now than they did before the pandemic1
Instacart helped 60,000 seniors buy groceries online in a single month after offering their Senior Support Service3
Tech use among the 50+ increased in wearable devices from 17% to 27%2
54% of individuals ages 50+ report wanting to learn more about using tech2
---
The Exciting Opportunity
As you can see, when it comes to technology, current and future resident behaviors have rapidly changed – and with that comes a change in their expectations. As they continue to frequent "instant gratification" apps or websites to make food or item purchases, older adults will grow continually accustomed to the convenience and virtually endless choice that come with placing orders and making payments via their personal device. And if they're not going to get that same experience from your community's foodservice, they may turn to third party apps whenever they have a desire or craving.
The opportunity is there: if you can provide something in the realm of a 'what I want, when I want it, at the click of a button' experience in your own community, you can not only retain and please more residents, but tap into entirely new revenue streams.
---
What You Can Do to Embrace the Opportunity
First things first – ensure your organization is focused on Wi-Fi deployments and ensure strong connectivity for residents now and into the future.
Consider deploying an in-house mobile app (accompanied by a concierge service) that allows residents to order fresh ingredients or ready-made items that they enjoy, and align those items with your regular purchasing orders.*
Many residents will be interested in the convenience of new digital-forward options, however, some may require some support getting started. The future is trending toward communities offering a 'Resident Technology Support' individual or team dedicated to getting current and new residents comfortable with their devices. Read LeadingAge's case studies exploring communities who've deployed such services.
---
Download Our FREE E-Book to Learn More Forward-Looking Technology Strategies to Retain Your Staff and Attract Influential Resident Families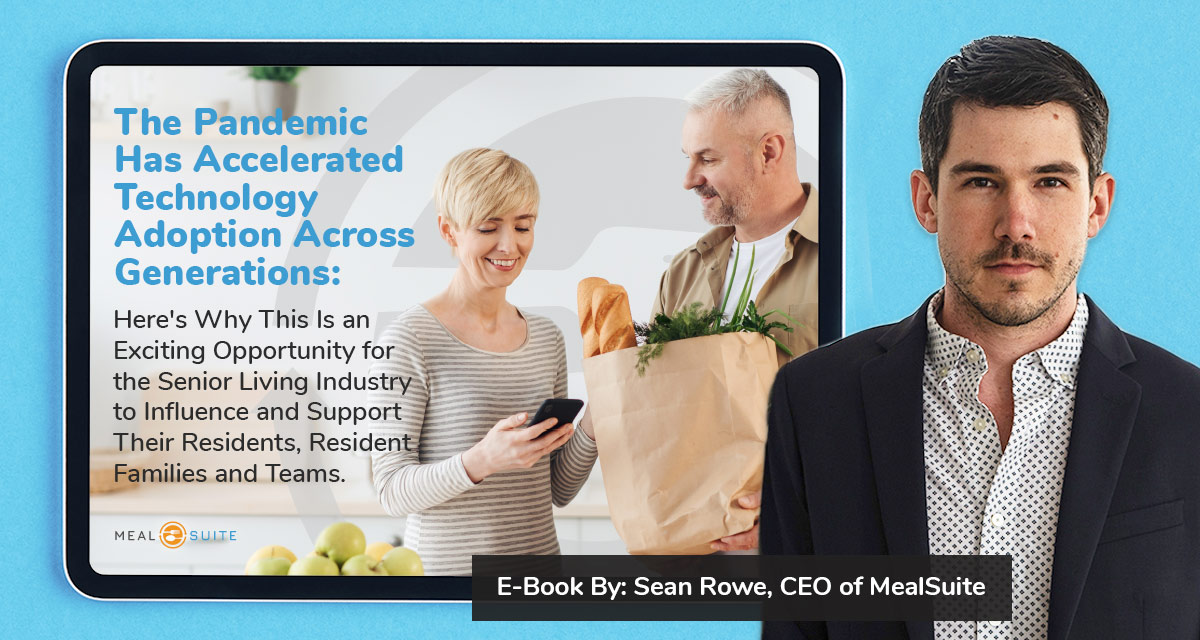 This accelerated shift in technology behaviors doesn't stop with older adults – the reality is that after such a transformational year, habits have changed across generations.
This means that not only have our residents changed – but their families and our staff members have too. And it's just as important for you to adopt solutions that attract and support them so you can stand out as a leading and preferred community to live and work in.
In our e-book, The Pandemic Has Accelerated Technology Adoption Across Generations: Here's Why This Is an Exciting Opportunity for the Senior Living Industry to Influence and Support Their Residents, Families and Teams, MealSuite®'s own CEO Sean Rowe explores actionable steps you can take to embrace change and set your community up for success now and into the future:
CLICK HERE TO DOWNLOAD YOUR COPY FREE!
References:
1. https://www.aarp.org/research/topics/technology/info-2021/2021-technology-trends-older-americans.html-CMP=RDRCT-PRI-TECH-040721/?cmp=RDRCT-907b618d-20210416
2. https://www.prnewswire.com/news-releases/tech-usage-among-older-adults-skyrockets-during-pandemic-301273924.html
3. https://www.grocerydive.com/news/instacart-has-introduced-60k-seniors-to-online-grocery-shopping-in-the-past/586955/