Back to Blogs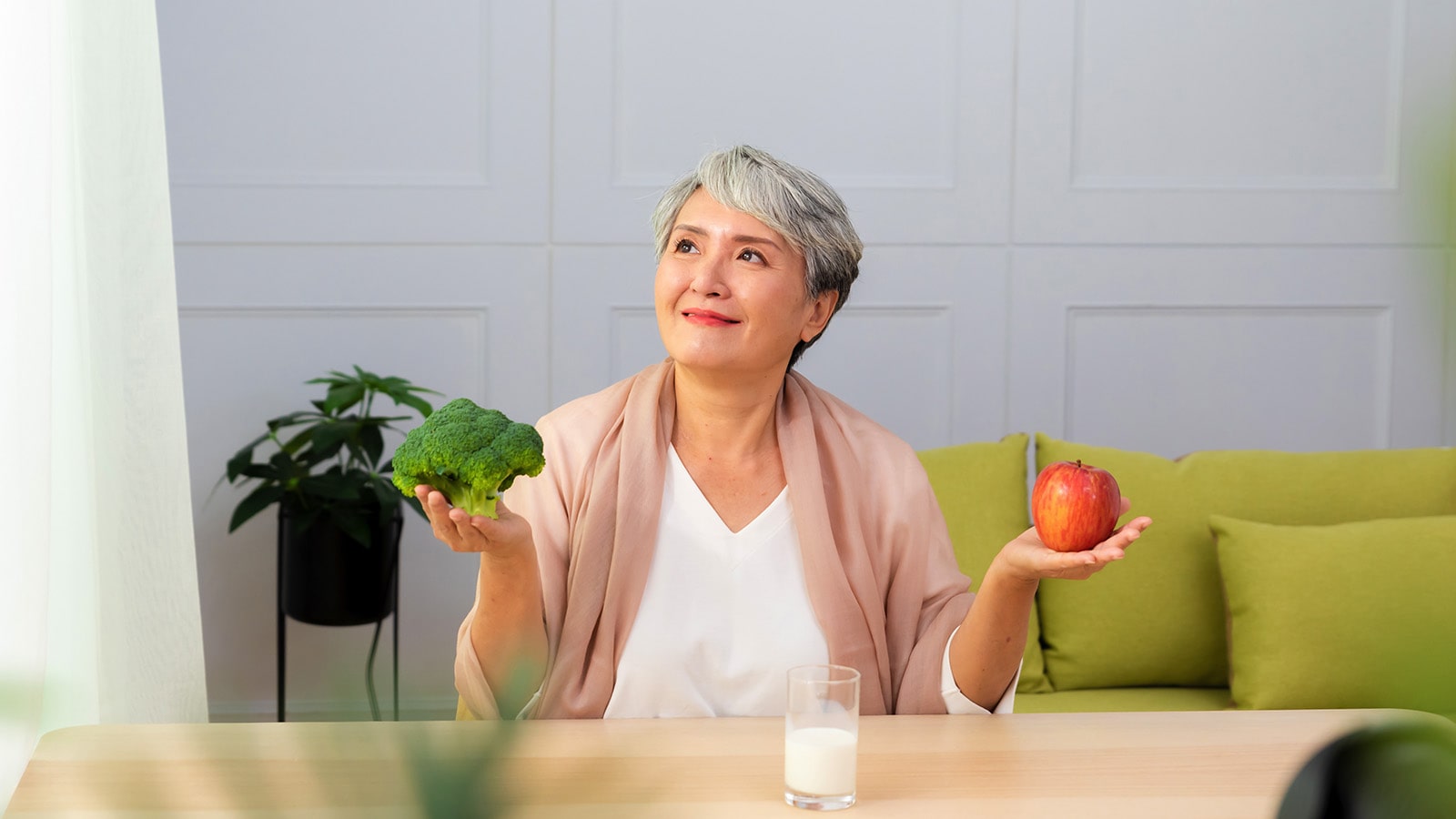 Plant-Based Foods & Nutritional Needs for Seniors: Tips for Serving More Plants to Older Adults from a MealSuite Dietitian (+Free Recipes Inside!)
By: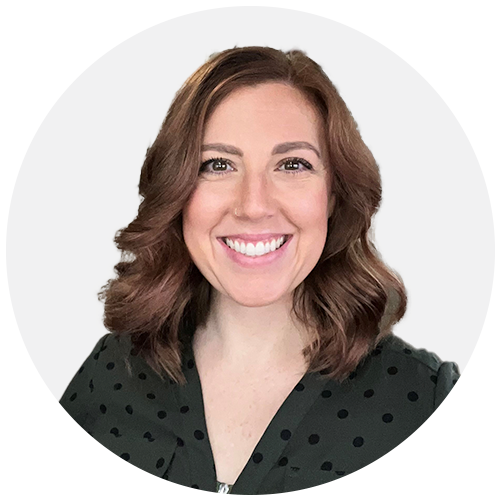 Noel Slaughter, RD
Lead Nutrition Services Specialist at MealSuite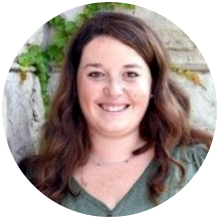 Victoria Lecky,
Menu Services Specialist at MealSuite
According to the Academy of Nutrition and Dietetics, National Nutrition Month 2023 is a reminder that good nutrition is "fuel for the future". This month encourages us to include more plant-based meals and snacks in our diets and menus – as this can be a great way to boost fiber, vitamin and mineral intake, while reducing environmental impact.
If you've been curious about introducing more plant-based options to the older adults you serve, but aren't sure where to start, read on to learn more about doing so in a healthy and approachable way.

But first – what does plant-based really mean?
There's often confusion around the meaning of "plant-based", with many thinking it's synonymous with vegan or vegetarianism. When in fact – a plant-based meal or diet is all about incorporating more plant-based foods, while eating less meat or animal by-products (not eliminating them completely).
Plant-based diets also aim for consumption of whole, minimally processed foods such as vegetables, fruits, whole grains and plant-based proteins like beans, legumes, nuts and seeds.
---
The benefits of incorporating more plants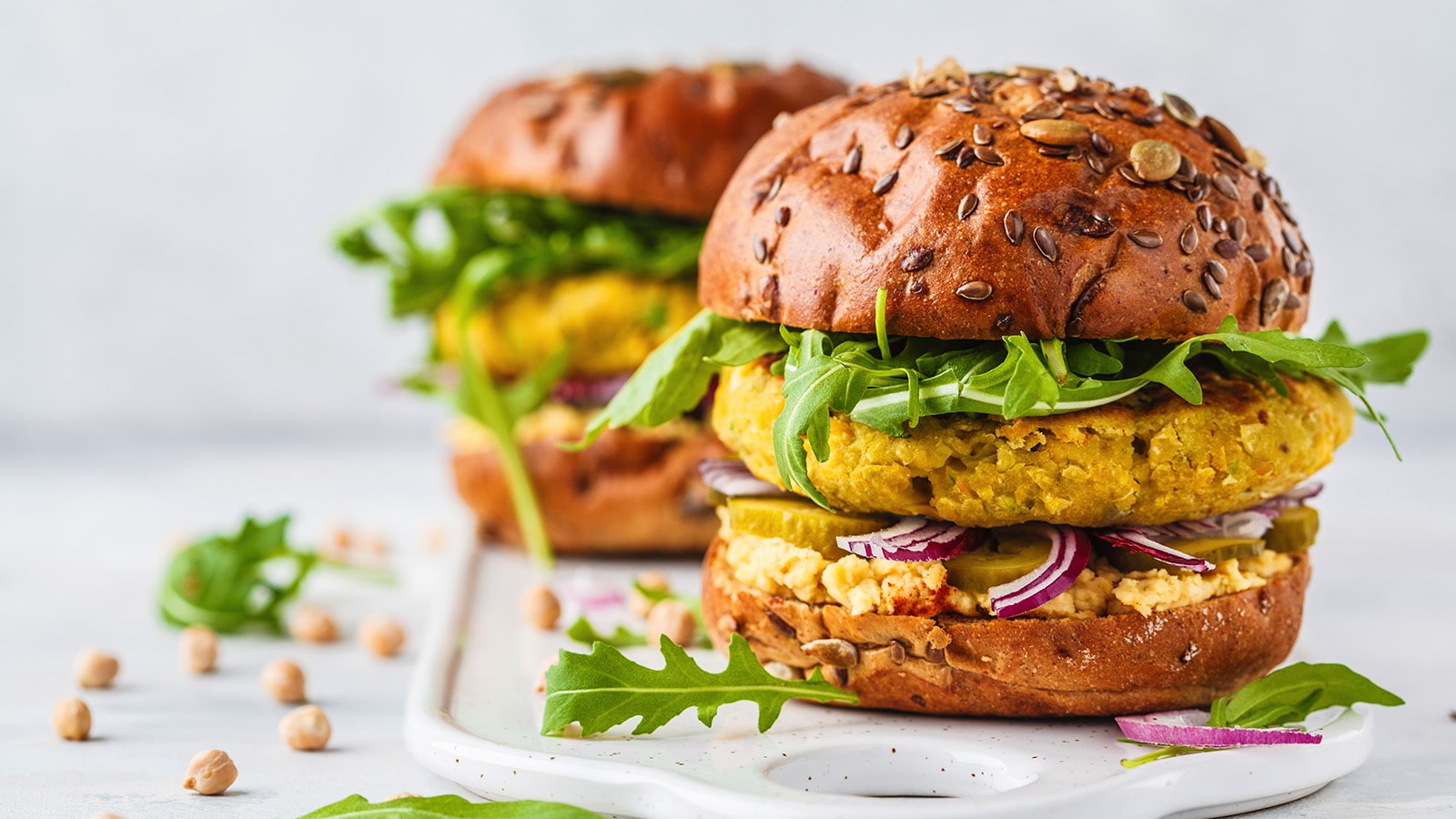 The upsides to including more plants in our diets and menus can range from boosted fiber and micronutrient intake, to reducing our environmental footprint:
Health benefits
Plant-based diets typically contain more dietary fiber, vitamins and minerals, and less saturated fat than diets that center around meat and other animal products.
Fruits and vegetables are key sources of essential nutrients such as potassium, dietary fiber, folate, vitamin A and vitamin C.

Potassium helps to maintain healthy blood pressure, support kidney function, and promote bone and muscle health
Dietary Fiber can help reduce cholesterol and support gut health and bowel regularity
Folate is important for blood cell formation, growth and function
Vitamin A is essential for skin and eye health, as well as protecting against infections
Vitamin C keeps teeth and gums healthy, aids in wound healing, and helps the body to absorb iron

Eating the recommended five portions of fruits and vegetables each day can reduce the risk of diseases, such as heart disease, cancer, and type 2 diabetes.
Plant-based proteins, such as beans, peas, lentils, nuts, seeds, and soybeans are like vegetables in their nutrient benefits; as they're excellent sources of fiber, folate, and potassium. They also provide iron, magnesium, and zinc, which are essential for blood health and immune function.
Consuming more plant-based proteins can help increase the amount of important nutrients the body needs, while limiting the amount of sodium and saturated fats you can get from processed meat and animal products.
Environmental benefits
Growing and producing plant-based foods usually uses less water, land, and energy.
The trend of increasing consumption of animal products has shown a negative impact on ecosystems and on water sources.
Industrial meat production accounts for over half of all agricultural carbon emissions.
---
...But what about protein? (Especially for older adults)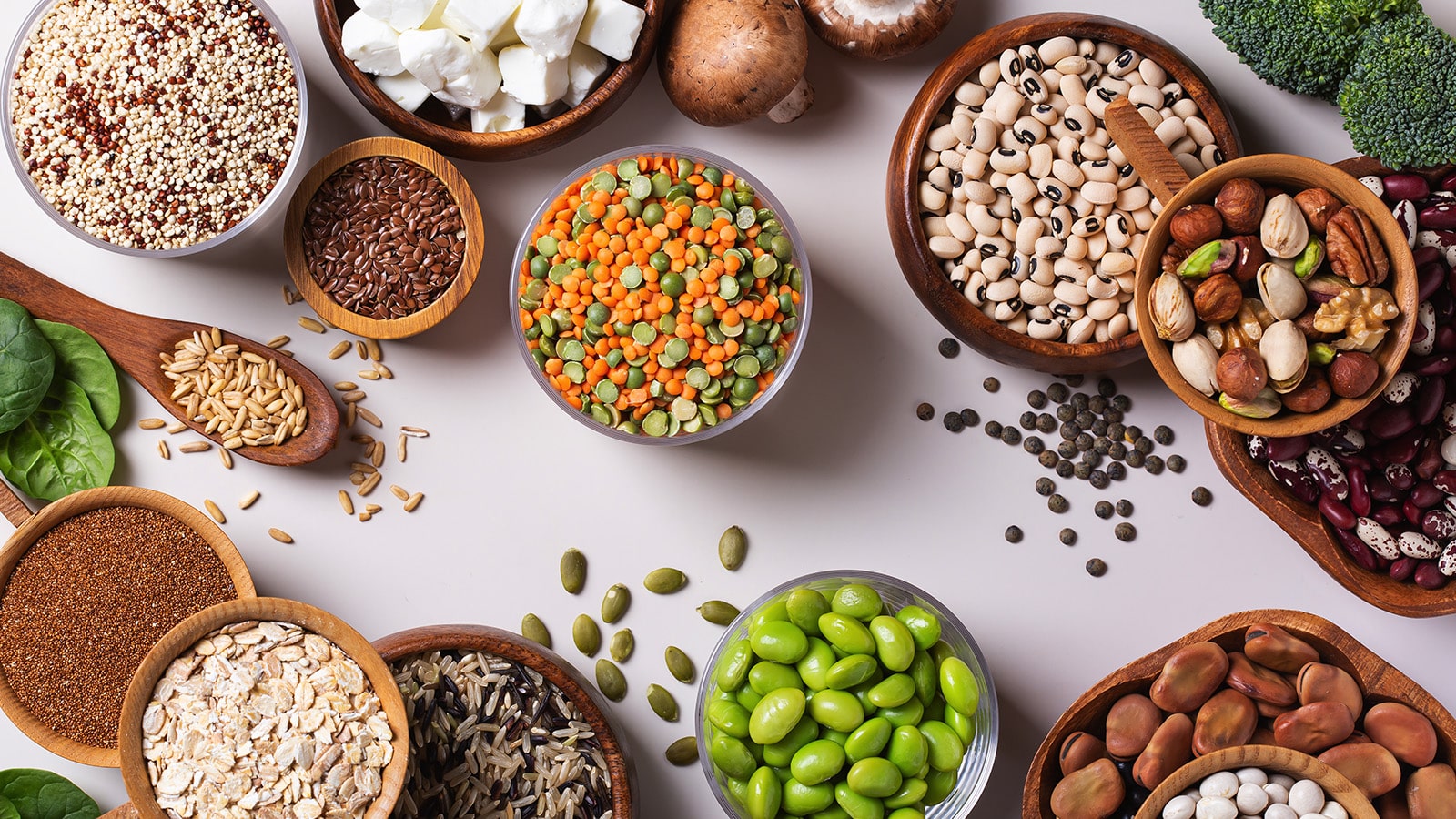 You're not alone if the thought of incorporating more plant foods into your residents' diets leaves you concerned about their protein intake. After all, protein is essential for maintaining muscle mass as we age, fighting infections and recovering from an accident or surgery.
Including protein foods with every meal and/or snack is important to ensure needs are met throughout the day. And you can rest easy knowing that plant-based foods leave plenty of room for this important macronutrient. Here are some tips to serving more plants to older adults while staying mindful of protein intake:
Chewing meat can be difficult for some older adults, which can result in lower protein intake. Some plant-based proteins may be easier to chew, such as tofu or soft beans.
Swap animal-based proteins for plant-based ones in your recipes, such as using lentils in a pasta sauce rather than beef or making a scramble with tofu rather than eggs. Plant-based proteins often have a neutral flavor and can easily be incorporated into a variety of dishes.
Bump up the protein by adding beans to salads, soups, rice dishes, or casseroles.
Add nut or seed butters to smoothies, hot cereals, or spread on whole grain crackers.
---
More tips for serving plant foods to older adults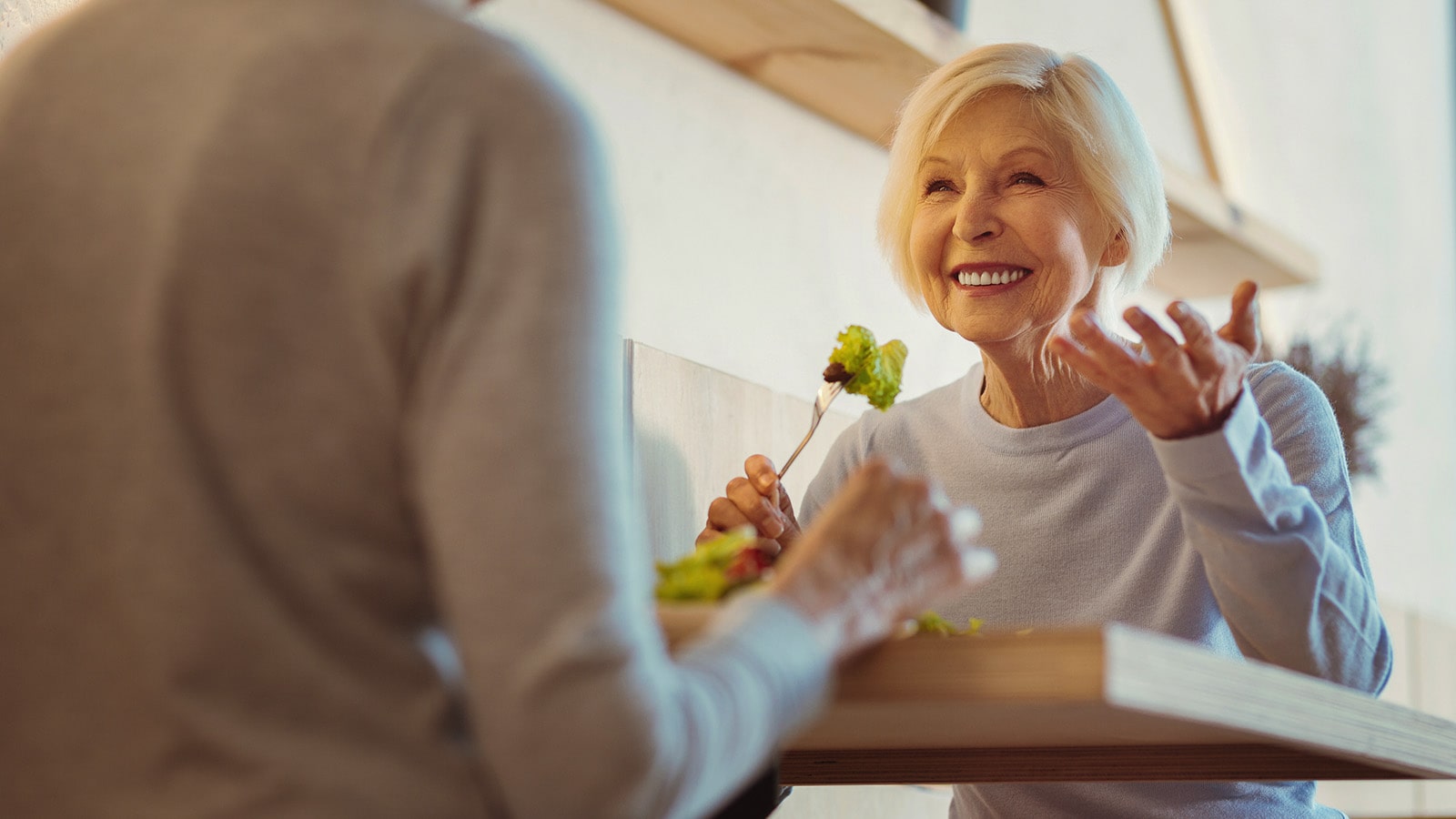 The older adults you serve may be less accustomed to plant-based options, so these tips may be helpful in introducing them in an enticing, yet healthy way:
Make "Meatless Mondays" a fun tradition with plant-based meals like bean tacos or tofu stir-fries.
Aim for at least half of their plates to be plant-based at each meal.
Choose whole grains – whole grains are packed with more essential nutrients than their refined grain counterparts.
Choose nuts and seeds that are raw or dry roasted without oil, free of added salt and sugar.
Focus on variety! Offering a variety of different plant-based foods can help ensure they get all the nutrients their bodies need.
---
BONUS: Try MealSuite's Plant-Based Recipes! Download all 10 for FREE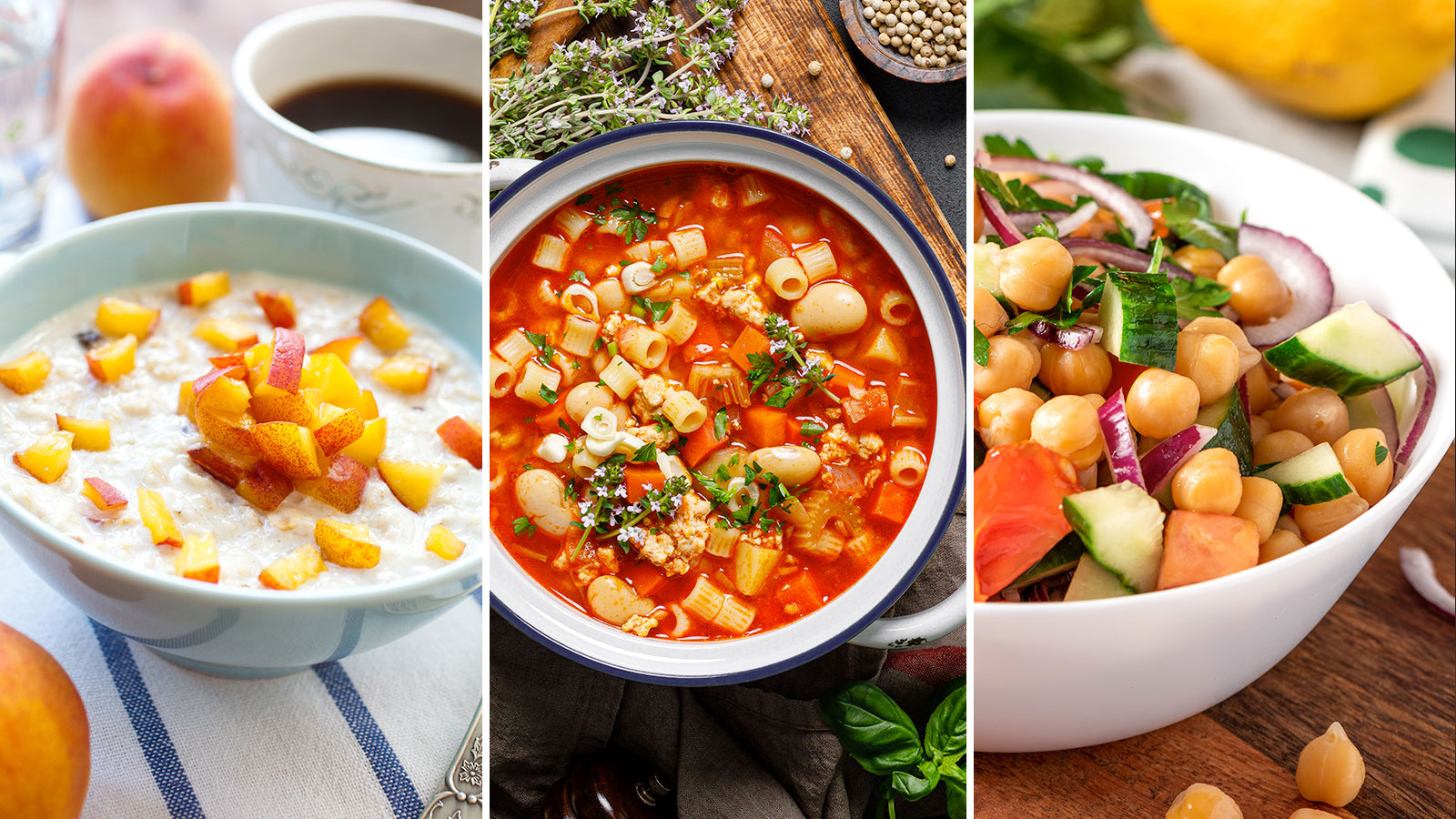 These 10 FREE Plant-Based Recipes celebrate ingredients like: beans, lentils, nuts, vegetables and fruits – without skipping on the flavor. Download now and you'll get...
10 delicious multi-scale recipes curated by our in-house Nutrition Services Team. Enjoy breakfast, lunch, dinner and side dishes like:

Peaches & Cream Oatmeal
Pasta e Fagioli Soup
Chickpea Salad
Greek Spaghetti Squash
And much more.

Full Nutritional Analysis for each recipe
---
Interested in learning more on this topic? Join our LinkedIn Live on Friday, March 24th at 2:30PM EST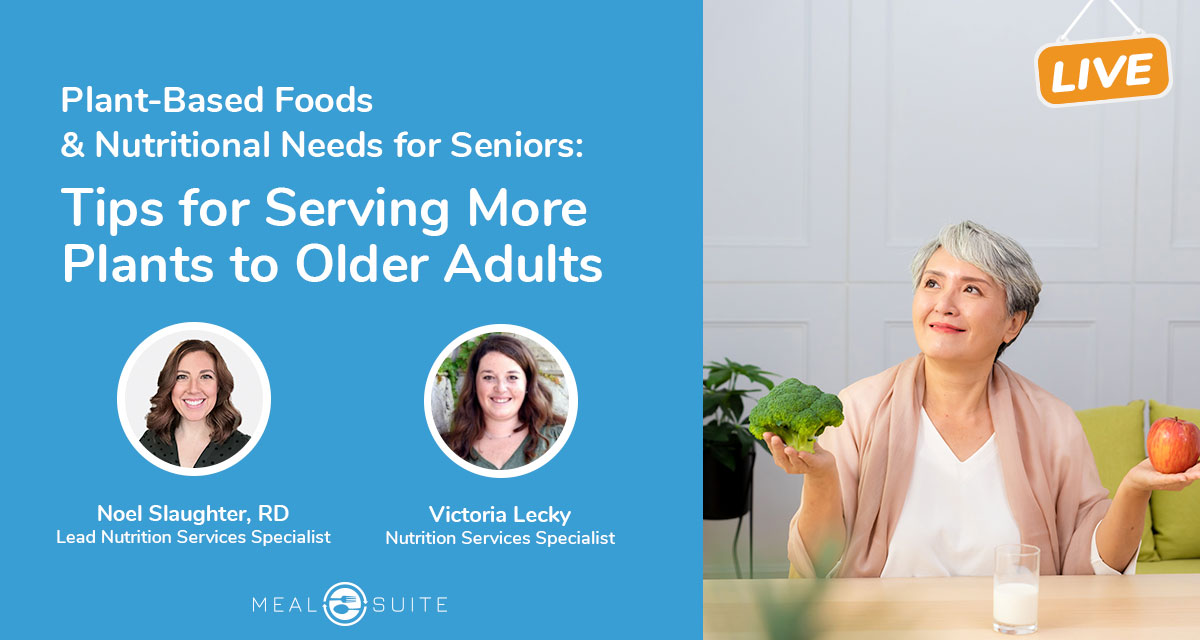 RSVP to save your virtual seat
---
References:
Nature Food Journal: Global greenhouse gas emissions from animal-based foods are twice those of plant-based foods | Nature Food)
International Journal of Environmental Research and Public Health Environmental Effects of the Livestock Industry: The Relationship between Knowledge, Attitudes, and Behavior among Students in Israel - PMC (nih.gov)
Eatright.org
MyPlate.gov
World Health Organization: Healthy diet (who.int)
UnlockFood.ca