Back to Blogs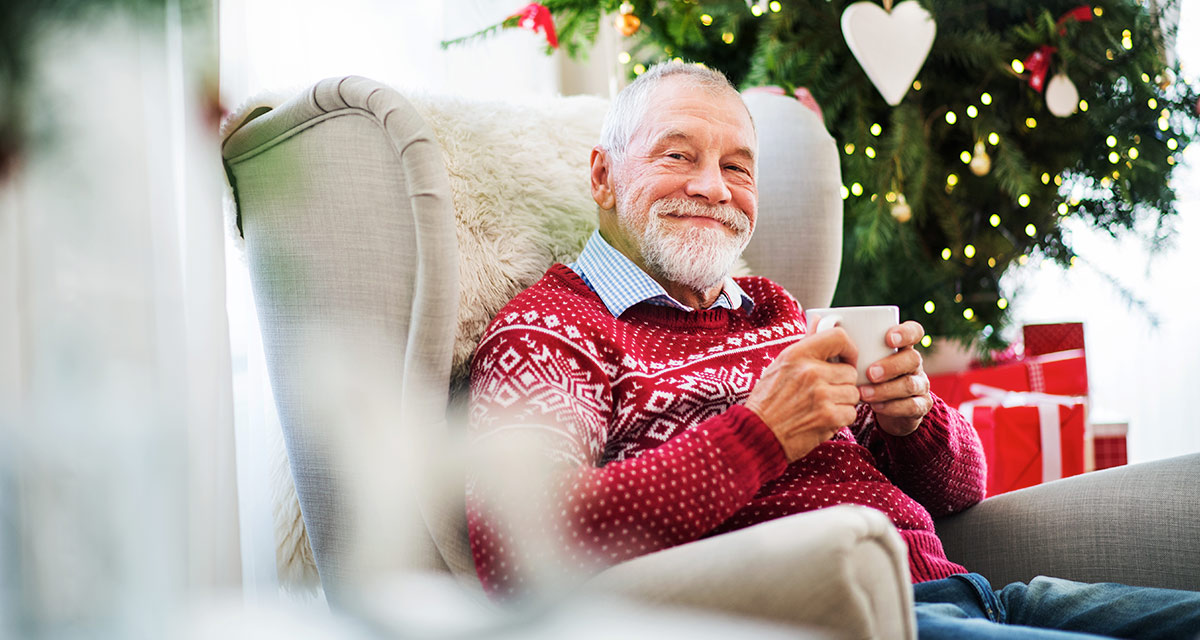 8 Ways Senior Living Foodservice Professionals Can Use Festive Flavors & Flare to Deliver Smiles This Unique Holiday Season
It's beginning to look a lot like the holidays around your senior living community!
The tree is lit.
The halls are decked.
The stockings are hung...
...Yet, it's hard to ignore the fact that the season is going to look a little bit different this year.
With the developments of the coronavirus putting restrictions on visits from loved ones, we know it's going to be more of a challenge than ever to get your residents in the spirit.
And this unique year, you have the opportunity to create some new traditions and make the season as special as possible for your community.
So, how can you get creative in delivering those festive smiles? If you're running low on ideas to help make the holiday special – you are not alone.
That's why we've collected some creative inspiration you can use to help make the coming days merry & bright through your foodservice!
Ignite smiles with season's sippings.
Warm the bellies and the souls of your community through holiday beverages, created and presented with flare! Here are some of our favorite ideas for consideration:
Get creative with cocoa. From marshmallows and candy canes to whipped cream and cookie straws, there are so many possibilities to have fun with hot chocolate! Try giving your residents the opportunity to build their own creation with a Hot Cocoa Cart, custom Cocoa 'Bombs' (filled with cocoa mix + fixings of choice!) or a Cocoa Gift Pack delivered right to their rooms.
Make the mocktails merry! Start with pitchers of a fun drink like a cider or punch and allow residents to choose their garnishes (like fresh orange, nutmeg, cherry grenadine, a splash of sparkling water or cinnamon stick) and a staff member with gloves and a mask can then assemble the personalized drinks to order.
Play with festive flavors. Or, you can simply serve up your Christmas classics with a twist! At mealtime, offer different flavors of Apple Cider or Eggnog with flavorful syrups or spices (e.g., pumpkin spice or maple).
Give the gift of laughter.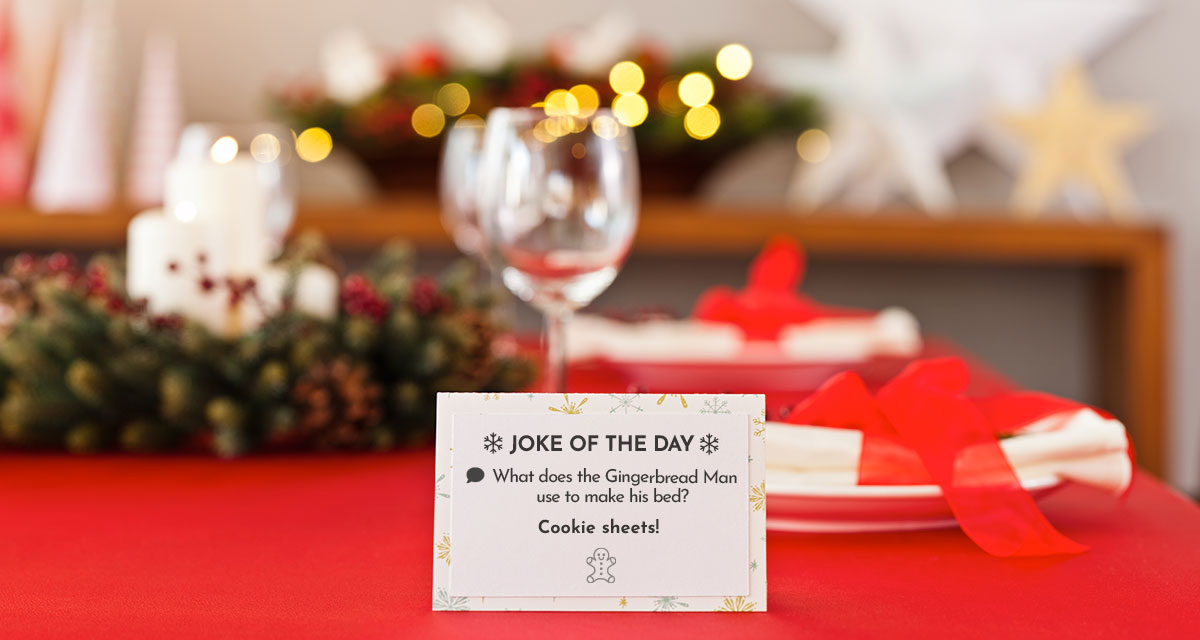 There's nothing like sharing a smile (and a giggle!) to spread more holiday cheer. That's why we've reintroduced a new set of Complimentary Printable Joke Cards – and this time they're holiday style!
Ready to print, cut and serve with your meals, here's a sneak peek of one of our favorites! Click here to download the full weeks' worth of holiday-themed laughs.
Share some festive fun.
Sometimes all it takes is a dash of creativity to make for a truly memorable season for your residents. Here are some special ideas to help engage your senior living community and spread the joy of the season:
Record a short holiday cooking show! To help boost the excitement and anticipation of your upcoming holiday feast, get your team together to record a quick and easy recipe preparation video. You can circulate the recording internally on room TV screens featuring preparation of one (or more!) of the recipes residents will be receiving for their holiday meal. Your residents are sure to love seeing a familiar face presenting on TV (be that your dietitian, chef or kitchen staff member).
Host a holiday parade by your staff. Featuring a Santa Clause, Elves, Reindeer or ugly Christmas sweaters, a festive parade where you hand out festive treats is sure to please. Plus, take it up a notch by playing Brookdale Senior Living's Jingle Jams playlist on Spotify in the background!
Distribute printable holiday activities with your meals! Engage your residents at mealtime with holiday-themed printable activities from crossword puzzles and word searches to riddles and word scrambles. Here's a printable Christmas Games bundle you can purchase from Etsy to help get you started!
Create a menu to remember!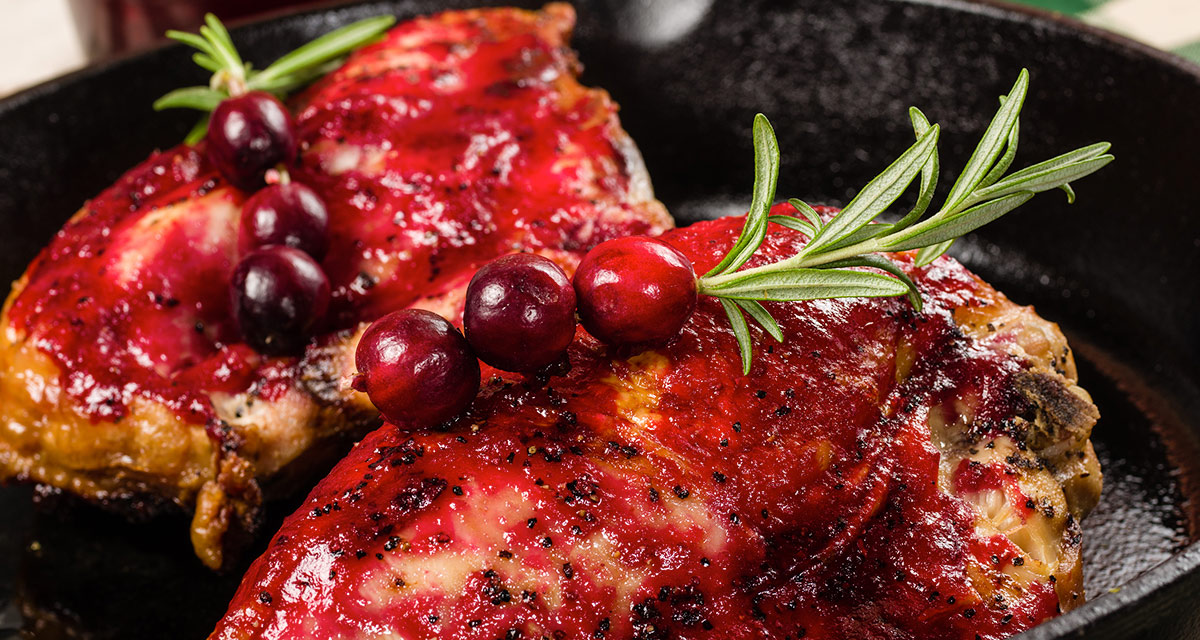 When building your holiday menu, we suggest focusing on classic, nostalgic winter flavors with a special twist! When you choose a foodservice management software like MealSuite®, you'll be equipped with recipes-a-plenty that your residents will love. Here are some of our favorite MealSuite® recipes for this season to inspire your menu:
Sage Bread Dressing
Apple Stuffing
Stuffed Chicken Breast
Cranberry Chicken
Orange Glazed Pork Loin
Ginger Apple Pork
Bacon Wrapped Pork Loin
We hope these creative ideas help you spread the joy and festive spirit that you and your residents deserve this season! And always remember that the MealSuite® family is here for your foodservice family, always.
If there's anything we can do to help support a happier holiday in your community, please don't hesitate to reach out to us. And as a gift from us to you – remember to visit our Complimentary Downloads Page for more free foodservice resources designed to help you deliver even more smiles to your community.