Back to Blogs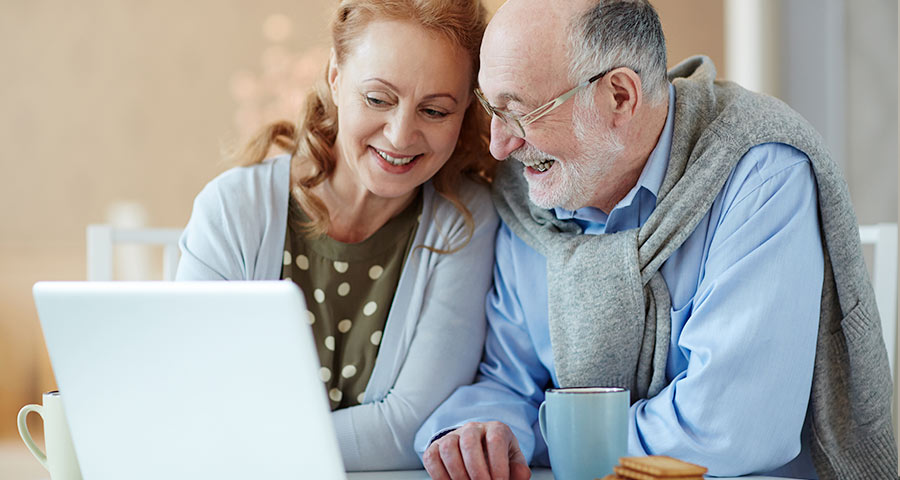 Ways to Use Your Exceptional Foodservice To Help Attract Prospective Residents, Without Using Costly Marketing, Even When They Can't Visit In-Person
You know your community is amazing. We know your community is amazing. And most importantly – your residents know your community is amazing.
...But with restrictions on visitors coming through your doors to see your home for themselves, how can you let prospective residents know that your community is the place they belong?
While you're used to welcoming potential residents (and their families) with open arms, a grand tour and a true taste of what life is like at your home – it's no surprise you've been struggling to find new ways to create that inviting feeling in this new normal.
As you know, one of the most pivotal aspects of your community's desirability comes from exceptional foodservice. And with the right approach, you have the opportunity to use your foodservice to help guide prospects to make the right decision for this important step in their lives.
…all without leaving their current location.
Because great marketing is kind of like a delicious meal – once a prospective resident has a taste, they're sure to be hungry for more of your community!
Here are some of the top ways you can start promoting your exceptional foodservice that's sure to spark an interest in those currently seeking the right home for them. (And BONUS: they don't break the bank!)
Your foodservice experience, to go!
Just because prospective residents can't physically visit your kitchen or dining room doesn't mean they have to miss out on trying your incredible meals!
According to a recent Senior Dining Association poll, 37% of communities are providing meals to prospective residents for marketing purposdes, even if they can't visit their location in-person. There's no better way to show off your kitchen's skills and give your prospect a taste of what your foodservice is all about.
So, how do you go about this if they can't physically visit? We say: take a lesson from all the restaurants who've had to adjust to these new times and offer your sample meal as takeout!
If your prospective resident or family is local, for a personal touch, someone from your team can deliver their meal right to their door while keeping a safe distance. Or, hook up with a local food delivery service to help you get your tasty meal in the right hands.
Does your prospect live far away? No problem! In this case, consider creating a "care package" that speaks to the feel and flavors of your foodservice. Include less-perishable items like baked goods or scratch-made jams or pickles, throw in a sample menu, and have it express couriered to their location.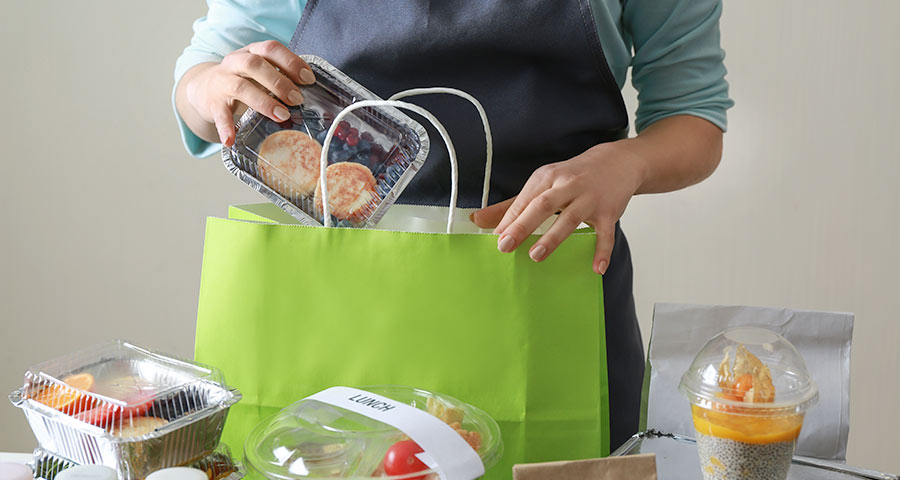 Nothing will put a smile on your prospects face quite like this tasty personal touch!
Fill them in on your safety protocols
Safety is at the top of everyone's minds as of late, so be sure your marketing efforts put your prospect and their loved one's minds at ease by clearly stating your foodservice safety measures.
Are you currently offering in-room dining only? How are you maintaining social distancing in the dining room? How do you ensure the right resident receives the right meals in your new version of normal? What are your specific cleaning protocols?
Or ...are you using a form of foodservice management software that includes a Self-Ordering or Advanced-Ordering portal to help you better enforce social distancing and safety protocols?
Use your website, advertisements and social media to ensure all your prospect's most burning foodservice safety questions are answered, so they can feel good about their decision to choose your community.
Show off your mealtime innovation!
Further to the safety point, if you're currently working with foodservice management software, you've already got a leg up on your competitors who haven't yet adapted!
Not only can the technology make your day-to-day easier – it also has many benefits your potential residents and families will take great comfort in. All you have to do is make sure they know about it.
Be sure to show off the innovative way you operate your foodservice on your website, newsletter, social media or YouTube channel. And if you use MealSuite® foodservice management software, you can focus on these appealing benefits to your prospects:
With comprehensive People Profiles, we capture and maintain each resident's unique needs such as dietary preferences, allergies, food textures and fluid thicknesses for personalized menus.
Does your loved one require special assistance at mealtime? Have the peace of mind in knowing that every detail of their required level of care is always available at our fingertips.
Plus, as our residents loved one, you have the opportunity to be part of their mealtimes. With MealSuite®'s Family Portal, you can view our daily menus along with the specific ingredients and nutrition offered in each meal.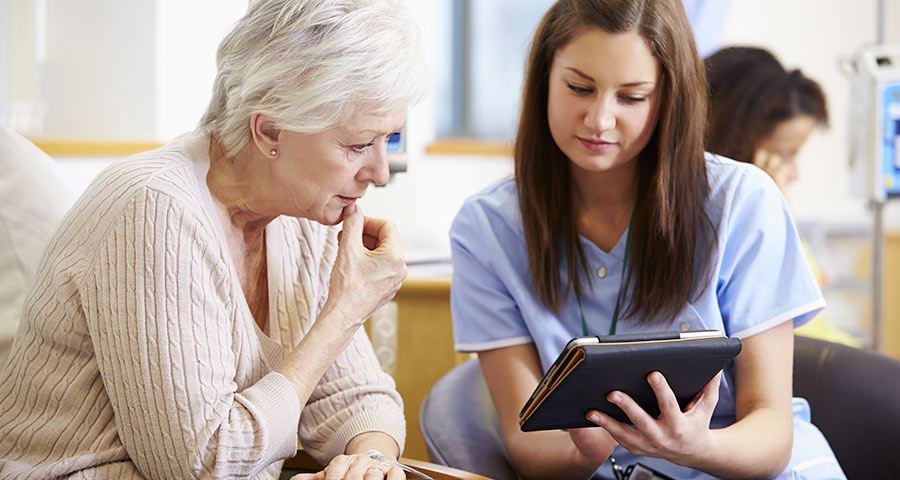 These talking points alone are sure to get your potential prospects and families excited about the peace of mind they'd have with your community's foodservice operations.
Shoot a simple "meet the team"
Your foodservice team is talented, passionate and strong – but when prospective residents can't meet them just yet, how can you introduce them?
TIP: shoot a quick and simple 'meet the team' video!
Even when all you have to work with is a smartphone, this is a great way for potential residents to get to know the smiling faces who will be cooking and serving to them every day.
Here are a few "interview" questions to ask your chef, frontline staff, nutrition manager or anyone else on your foodservice team to create enticing marketing videos perfect for your social media page:
What do you like most about working here?
What's your foodservice philosophy or style?
How would you describe our foodservice team?
How do you think our residents would describe our foodservice?
What do you think makes our foodservice stand out from the rest?
Why would you recommend our community to a prospective resident?
In need of some inspiration? Watch Amica's simple yet effective video featuring their own Chef Robert Linder, Director of Culinary at Amica Arbutus Manor:
Take resident foodservice testimonials
What better way to help others learn about your community's foodservice experience than from those you serve every day?
Take the time to ask your residents how they feel about your foodservice and record some of the most representative soundbites via video or post them as a visual on your website or social media.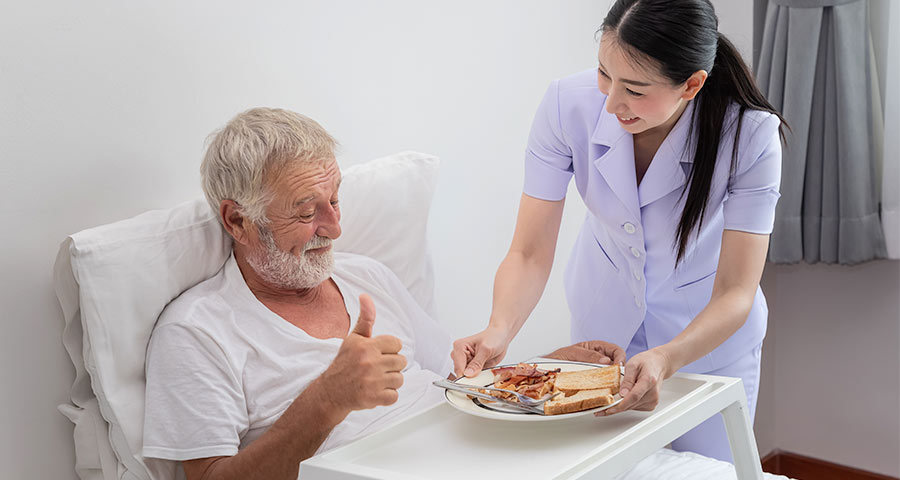 Update your website
Does your website currently have a page dedicated to your dining program? If the answer is "no" – now's a great time to ensure its up to date!
Unsure what to include on your page? You can simply include the materials we've already covered – from resident testimonials to your innovative practices to a 'meet the team' section, all of these pieces of content can only help your prospects get a sense of your excellent foodservice.
Step up the social media
Remember to post all about your community's foodservice on your social media page!
Running low on content? Ask your foodservice team to snap photos of their delicious meals, a smile with a resident or a special daily activity or program they're running.
Posting about your foodservice can only continue to garner trust between you and your prospects – and have them craving your tasty looking meals!
Watercrest Winter Park shares a fun post about how they celebrated National S'mores Day!

BONUS: If your chef has a knack for the camera, you can even use your smartphone to host a live or pre-recorded cooking demonstration to show off their skills (like here at Waltonwood Senior Living!)
As you can see, just because prospective residents can't always visit your senior living community doesn't mean they can't have a taste of what you're all about!
With these simple and affordable tips, you'll be well on your way to guiding your prospects and their families to making the right decision for their future.
Cheers to the power of great foodservice!