Back to Blogs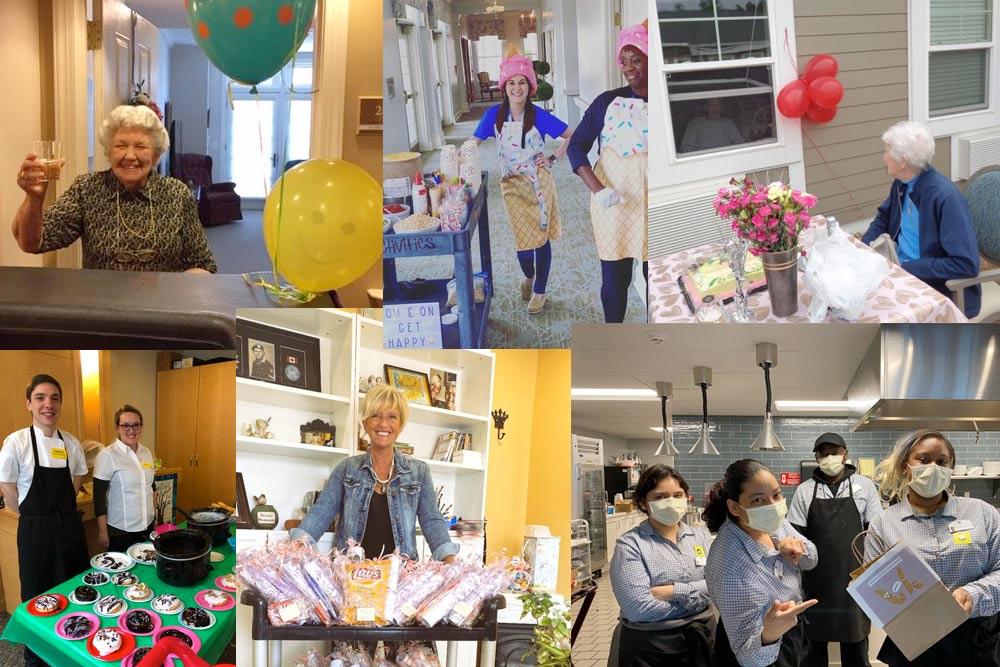 April 08, 2020
9 Ways Care Communities Can Serve Up a Smile!
Food has a way of bringing people together unlike anything else. It's something we all have in common. It can bring comfort. It can bring laughter. It can bring feelings of connection in a difficult time when we need it the most.
...Especially when it's prepared and served with love.
Nothing makes us happier than seeing care communities around us using the power of food and a dash of creativity to feed the souls of their patients and residents. Keeping spirits high, and bellies satisfied. Here's some of our favorite ways they're serving up smiles (and you can too!)
1. Amica brings back the ice cream 'truck' (nostalgic music included!)
2. Chartwell serves up 'Suite Treats' goodie bags filled with residents' favorites!
3. Maplewood is #crackinupwithculinary with daily food puns for meal deliveries.
4. Atria introduces 'Quarantini Happy Hour', complete with impressive dance moves!
5. Marshs' Edge deploys 'Fun Carts', including a Fiesta and Ice Cream Sundae theme!
6. Wesley Commons Retirement Community doesn't let quarantine get in the way of love (...or cake)
7. Donut worry, be happy …at Revera!
8. Does dancing with fruit count? We think so! The #PineapplePeople at Commonwealth Senior Living are having a ball 'Staying Inside'
9. Parker Life delivers beverages, bubbles and laughter with their decked-out 'Happiness Cart'
These amazing communities prove that social distancing doesn't have to mean that human connection is cancelled. And while the world at large needs to slow down for a while – the fun doesn't have to! We hope these ideas have inspired safe fun with food you can try with your community. Discover even more from the Senior Dining Association here.
If you're looking to get a head start on the fun, MealSuite® has prepared 7 days of quick printable Joke cards you can include with your meal deliveries.
And remember, we are always here to support you in delivering those satisfied smiles, especially in these challenging times. If our team help you in any way, please don't hesitate to reach out to us. We're here for you every step of the way.