Back to Blogs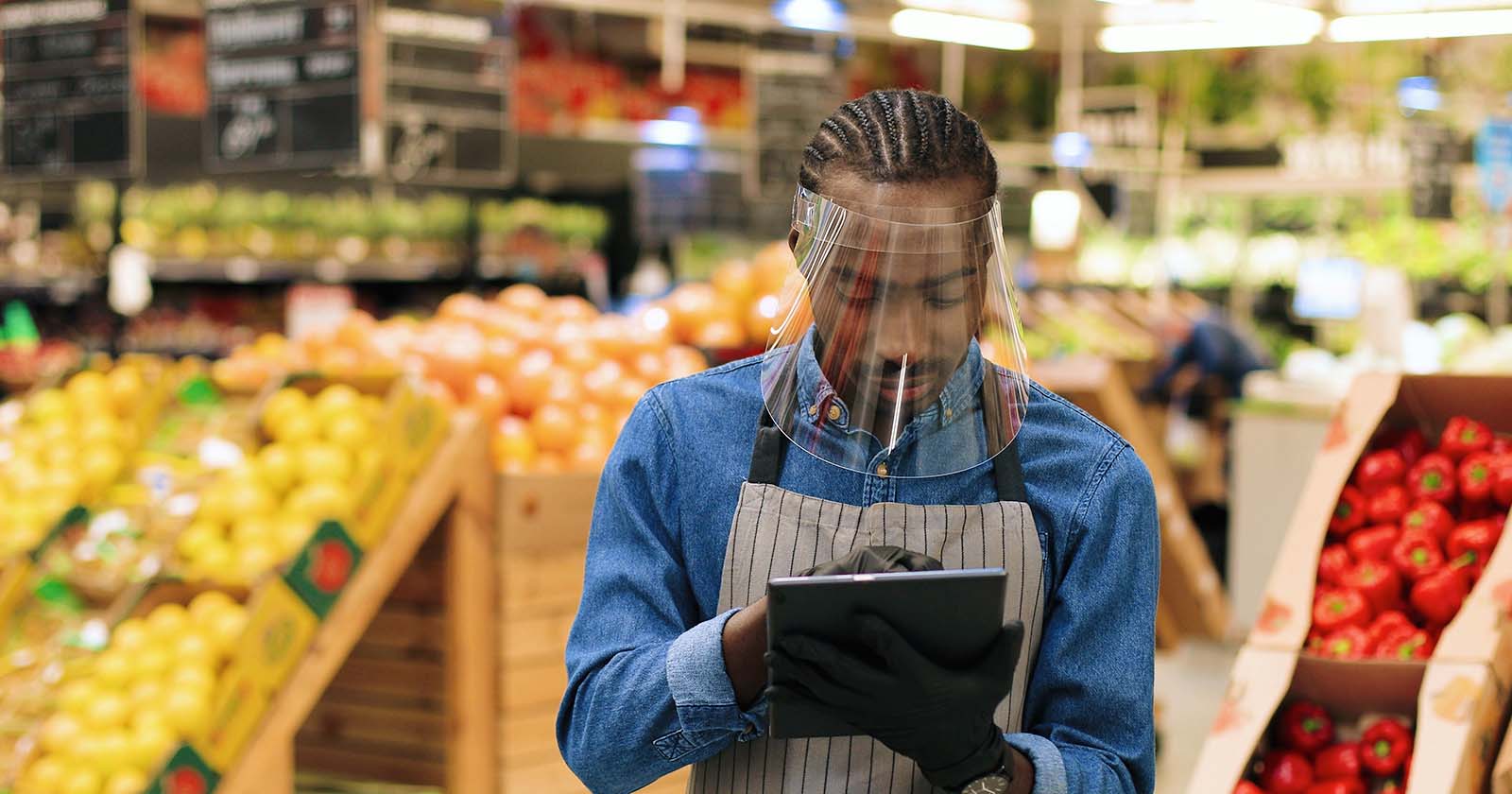 Could Artificial Intelligence be the Answer to Supply and Cost Challenges in Senior Care Foodservice? Insights from a Foodservice Technology CEO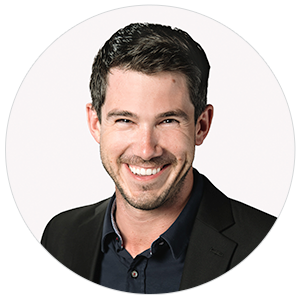 You've spent hours creating a new breakfast menu only to discover that the price of bacon has skyrocketed. Or, you've had to switch from your residents' favorite ground coffee brand because their usual won't be available for weeks on end. Or maybe you've had to make last-minute adjustments to dinner because your fish order didn't arrive on time.
Do these supply challenges sound all-too familiar? If so, you are not alone.
---
Unforeseen supply chain and costing challenges in senior care
As if the safety concerns of the pandemic weren't enough – individual consumers, restaurants and continuum of care communities alike have been faced with an all-new wave of supply and costing challenges. And as a senior care foodservice professional, it's been placed on your shoulders to navigate these unforeseen waters.
If this is causing you stress on a regular basis, I'm right here with you. That's why I'm writing to provide you with hope for a more streamlined, predictable and easy procurement process. One that's empowered by technology, and more specifically, artificial intelligence (AI).
I know what you might be thinking: Isn't AI for big business or Silicon Valley tech companies? I'm a strong believer that innovative technology has a place in senior care. In fact, I would argue our industry is among those who need its benefits most.
Read on to learn more about what exactly is causing our biggest supply chain challenges, and how artificial intelligence will play a significant role in helping us overcome them.
---
What's at the root of this disruption?
It's no secret that our industry has transformed in more ways than one over the last couple of years. And when it comes to procuring the products you need for your delicious and nutritious menu, we've been up against three main factors:
Limited product availability
Rising food costs
Rising labor costs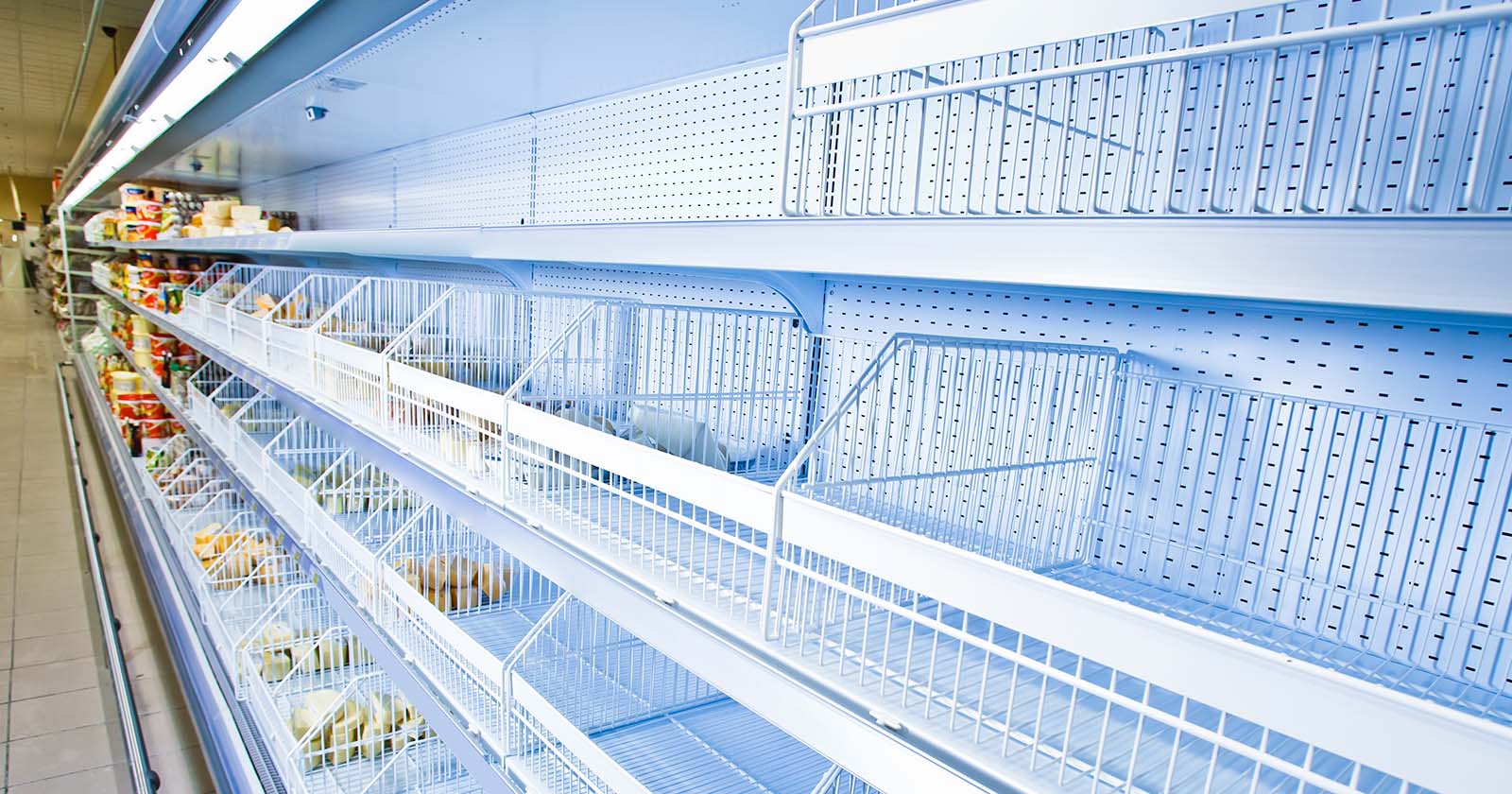 *Put your hand up* if you've noticed at least one of these factors affecting your operations (my hand is definitely up). So, when we're looking for a solution, we'll first need to dive into what's really causing this:
Shipping capacities. These days, it's difficult to miss the stories coming up in the news about shipping capacity challenges (think, for instance – the shortage of microchips for cars). This global challenge is caused by several factors, like:
Fluctuating demand. When the pandemic hit, food manufacturing flipped on its head in a matter of weeks. Suppliers went from manufacturing for businesses first, and then consumer, to the complete opposite with the lockdown forcing people to stay home. While now this is fluctuating back, the supply chain is still trying to catch up on this very sudden disruption.
Downstream availability. When you think about all the ingredients, packaging materials and supplies that go into a product – when even one material isn't available, it can cause a disruption to the entire production process. Take, for instance, Coca-Cola's supply chain being affected by a shortage on aluminum cans.
Rolling impacts of the pandemic. We also need to factor in the rolling impacts of the pandemic we're still feeling to this day. Things like cyber-attacks on the rise and pipelines or manufacturing plants being shut down have all caused a domino-effect disruption we can all see and feel.
Natural disasters. Power outages and complete shutdowns as a result of natural disasters are bound to continue to pose a global supply chain challenge. Take, for instance, the Texas Winter Storm of 2021 that caused a massive electricity generation failure that left many without power for several days on end.
If all of this is making you feel a little overwhelmed, I'm with you. In fact, the world is with you. And this is exactly why I want to share with you how embracing AI technology can help us squash these challenges now and into the future.
So, let's skip to the good part...
---
Artificial intelligence's place in senior care foodservice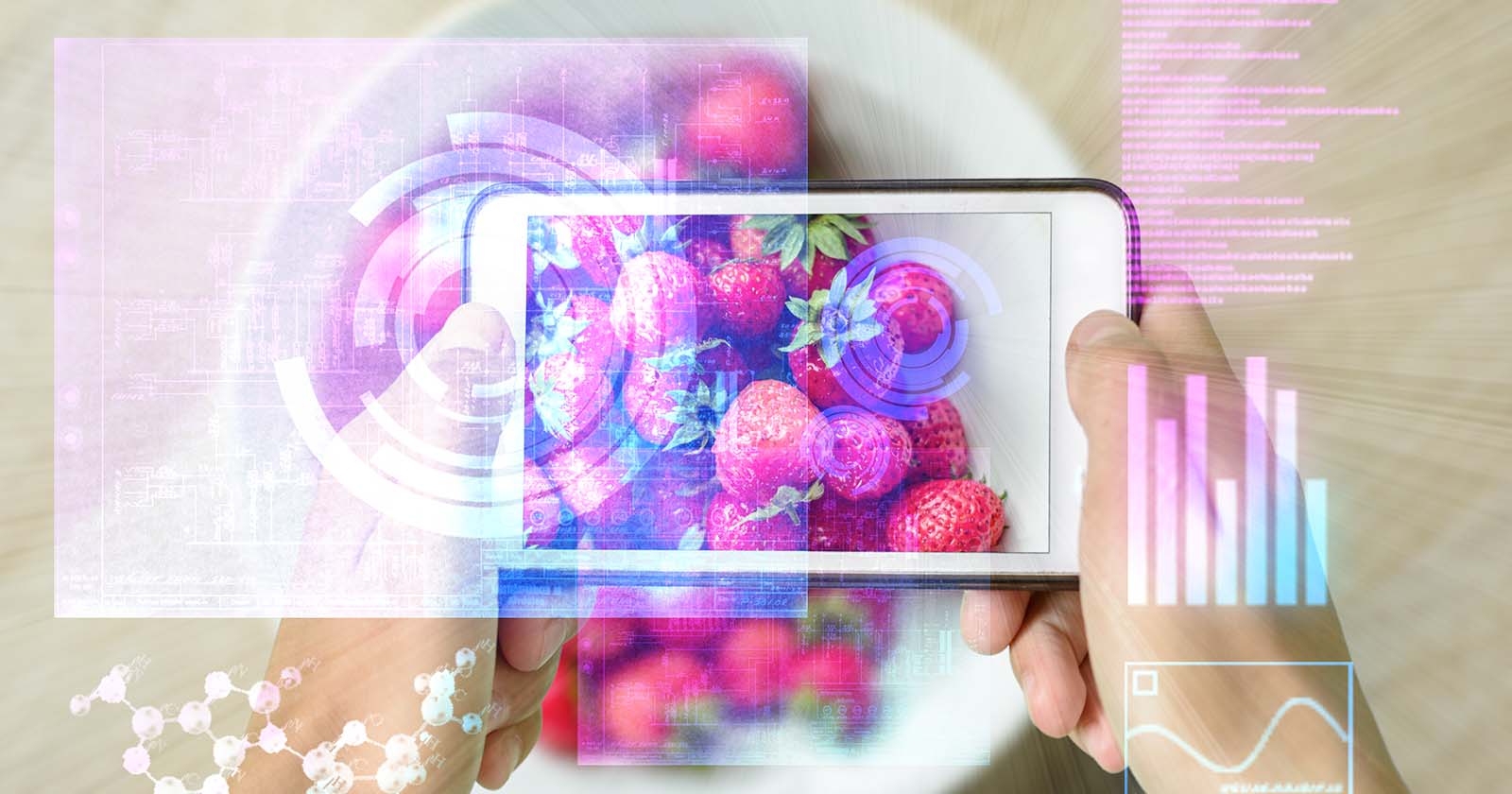 With all the above challenges in mind, we know that moving forward, it's going to be necessary for us to streamline our workflows and ease these bumps and hurdles. Because as a senior dining operator, I'm sure you're thinking: "I don't have time to spend half my day troubleshooting or trying to stay within budget when things are so unpredictable!"
Our mission at MealSuite® has always been to alleviate you and your teams' administrative burdens with technology, so you can focus on what matters most. Which is why I'm very excited to walk you through how artificial intelligence (AI) can be the answer to some of the biggest procurement challenges in our industry:
Watching market conditions & providing you with recommendations.
When market conditions are like a roller coaster, there simply isn't time or capacity to keep track of all the changes that are happening by hand. This is where artificial intelligence can be your best friend.
Updating your shopping & production lists with the click of a button.
All you'll have to do is "accept" the carefully curated alternatives your AI solution offers, and your procurement list will update automatically in all the areas it needs to.
Not only this, but when you have a fully integrated foodservice system, your production reports will update across the board, saving you countless hours of manual updating or communicating each and every adjustment to your kitchen staff.
Analyzing procurement based on your residents' preferences.
A system like this is even smart enough to analyze recipes to make menu recommendations based on your residents' preferences.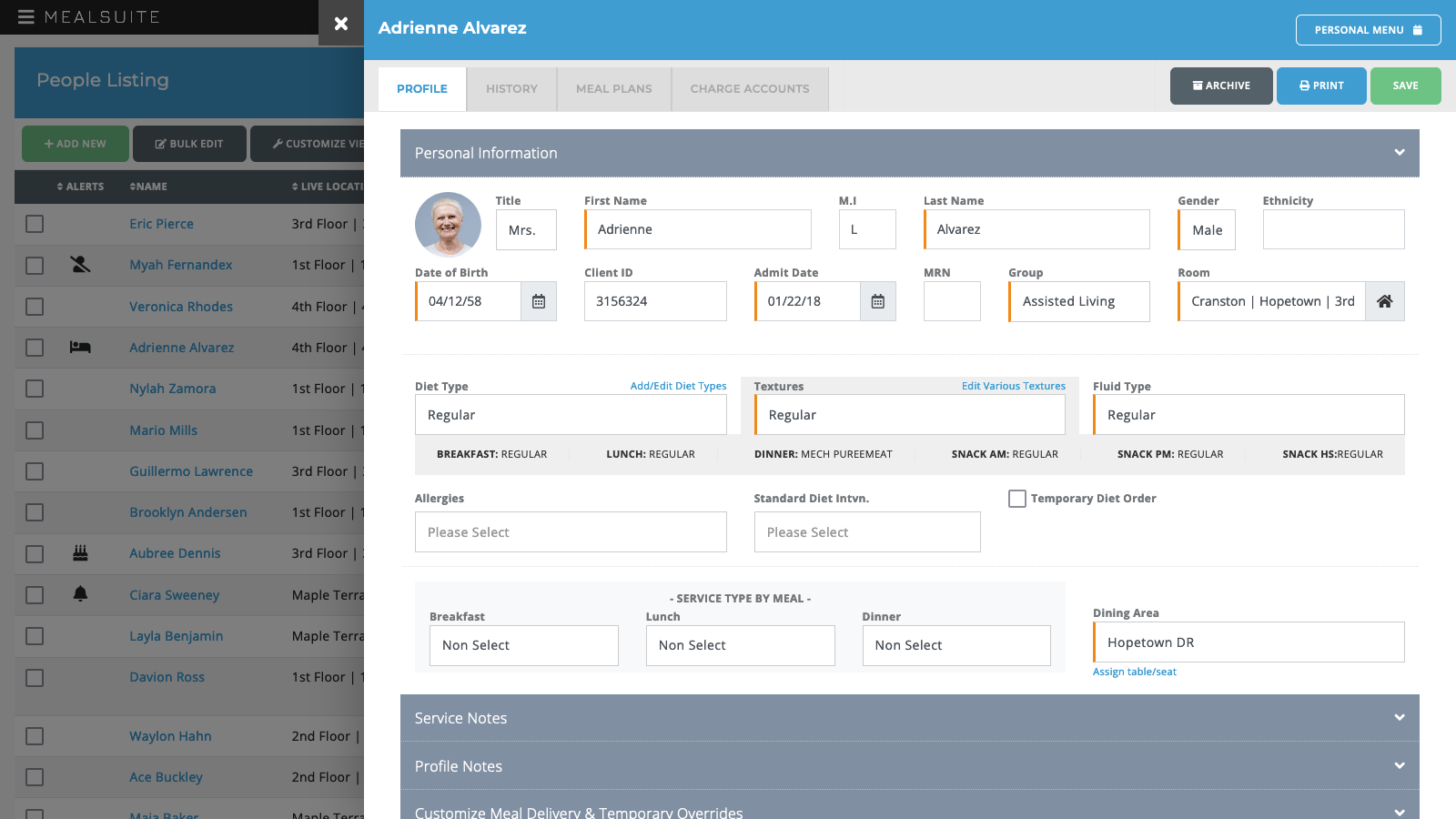 The thing with AI is that the more you use it, the more it knows, and the more it can help you: the system will pay attention to what your residents tend to order and what they enjoy most (say, they enjoy leaner meats over heavier ones), and provide you with quantity recommendations based on these trends. This means your procurement and prep quantities will be as on-point as possible.
This will not only save you headaches and increase your residents' satisfaction, but it'll have a major impact in reducing your food waste (good for the earth and for our budgets!)
---
Coming soon to a tablet near you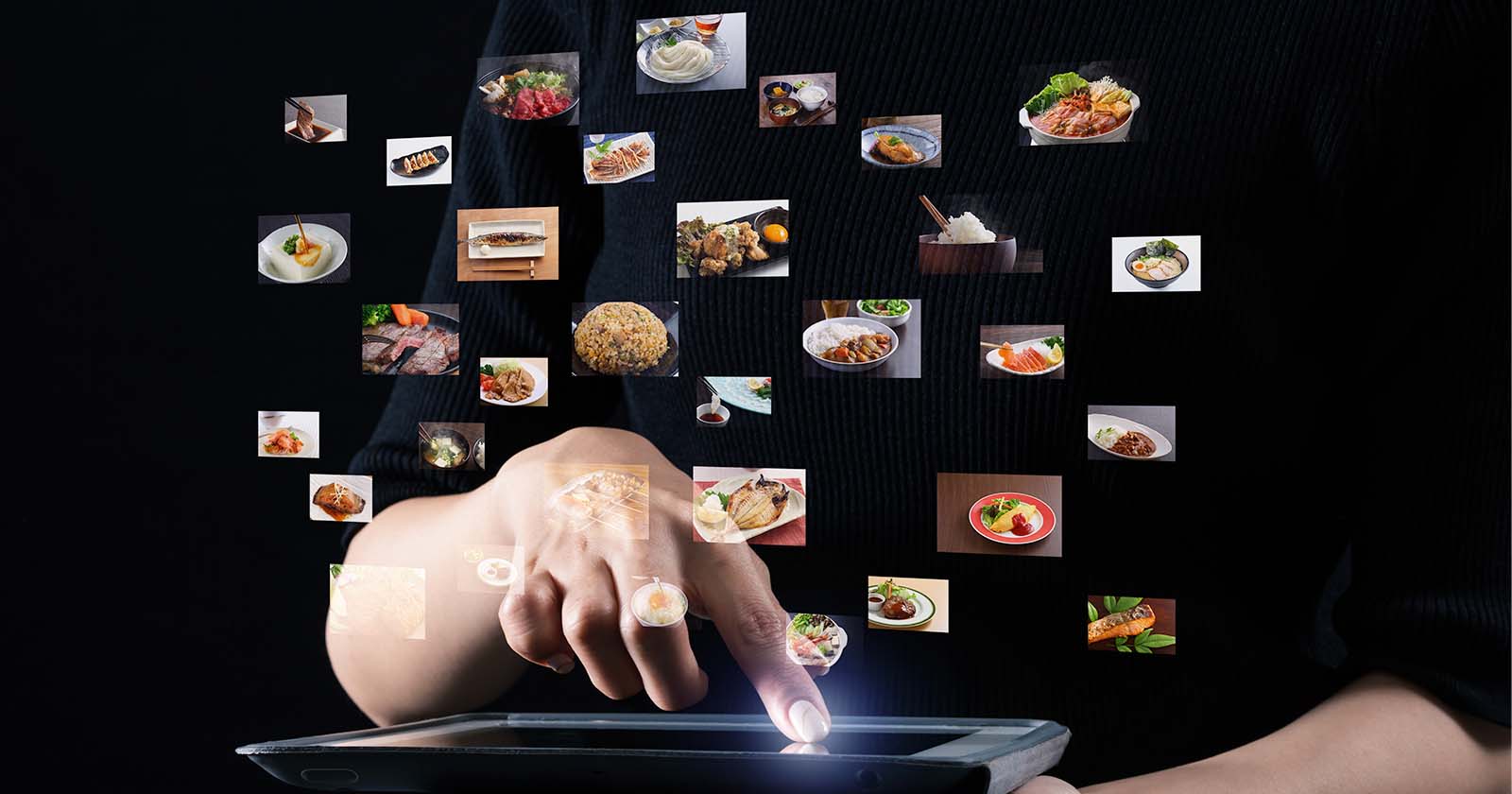 From robots serving residents their meals to wearable technology for personalized care, there's no doubt that the industry is leaning more on smart technology to keep their seniors well cared for, and operations running smoothly.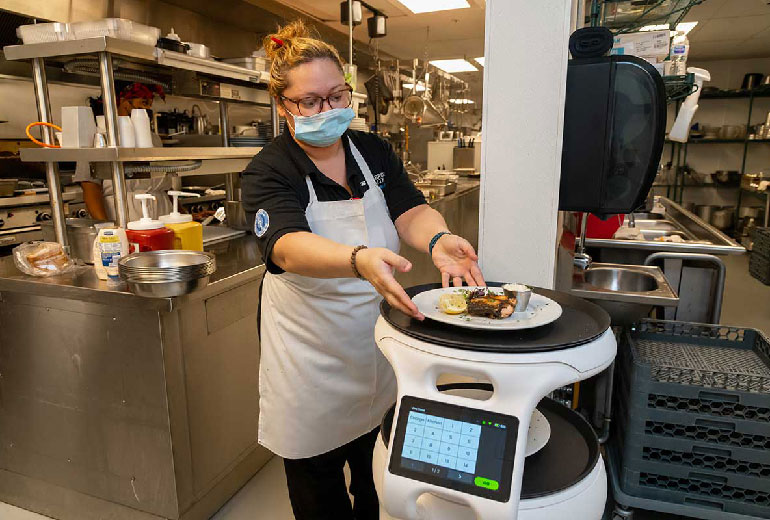 Image via Food Management
Artificial intelligence is a natural progression for our industry, having potential to unlock convenience, time and dollar savings from communities facing all-too-common challenges.
And the exciting news? Our Research & Development teams have been working for the past year and have already started to implement these AI features, with many more exciting advancements to come. Be sure to follow MealSuite® on LinkedIn and Facebook to stay tuned for some big announcements in 2022!
If you can't tell already, I have a passion for bringing innovation to our deserving industry. Here's my personal LinkedIn page – feel free to connect with me to talk foodservice, technology, or to just say hello!